How To Choose The Right Curtains & Blinds For. Your Home
Apart from the choice of colour and fabric, the most important factors in any decision about new curtains or blinds are the shape, size and position of your window. Here are a 5 points from Stitched.co.uk to guide you in the right direction...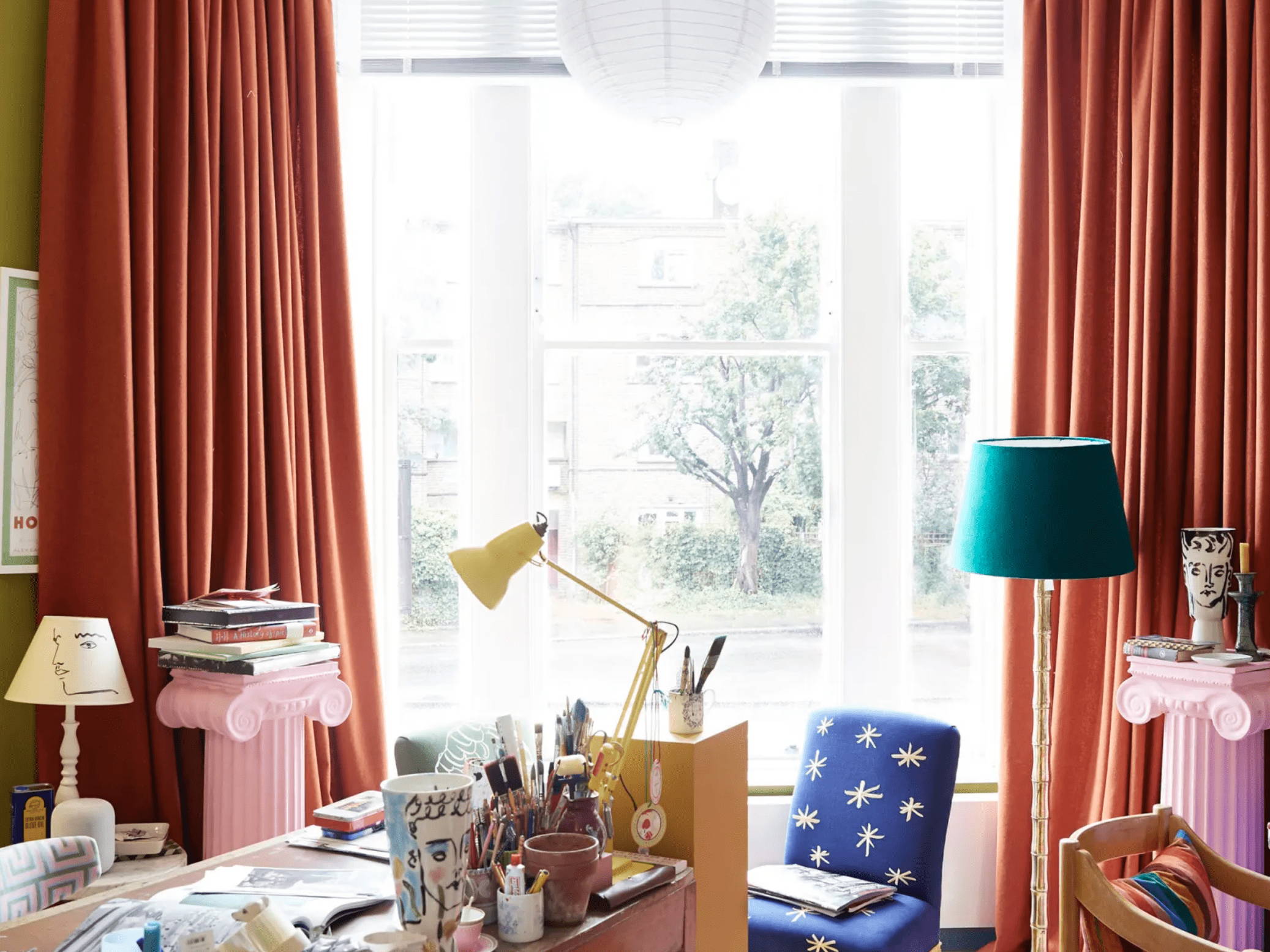 1. What shape is your window?
If you're lucky enough to have a window with an interesting shape -- round or arched for example -- or one that has an inherent beauty of its own, you won't want to swamp it in fabric. A simple treatment, such as a pair of curtains with a wave or eyelet heading, may be the best solution! Or, you may consider a blind hung high to avoid obscuring any part of the window when drawn.
Bay or bow windows can be a challenge to dress. Blinds are often a good option but with a bay window, it is difficult to get full blackout with blinds because of the awkward angles (something to bear in mind if choosing for a bedroom!). Curtains on either a track or poles are a very popular option for bay windows, such as Luke Edward Hall's curtains photographed above!
As a general rule of thumb, where the windows in the bay are close together, it's usually best to have a single pair of curtains -- one at each side of the bay. This prevents the window looking too 'fussy' and light into the room being reduced. Where there is more space between the windows, intermediate curtains can be used so that each window effectively has its own pair of curtains. This can make a real statement and create a sense of grandeur in a room.
2. What size is your window?
As with unusual shaped windows, you won't want to obscure a small window with bulky curtains. Lighter weight fabrics and simple curtain headings are a good idea. Hung in the right way, curtains and blinds can also disguise windows that are disproportionately small or large. A small window can be made to appear larger if blinds or curtains are hung high above it. Similarly, a longer curtain pole that allows curtains to hang next to (and not overlapping) the window when pulled back, will make the window look larger.
3. how does your window open?
If your window opens inwards, you'll want to ensure the window treatment doesn't obstruct its opening. Where space allows, the curtain track or pole should extend well beyond the frame so that the window can open unimpeded. For skylights, sheer fabric anchored on rods top and bottom will diffuse the light. Where blackout is required, one of our blackout lined roller or Roman blinds held in place with rods is an effective solution.
4. where is your window positioned?
Do you have limited space either side of your window? The key here is to opt for a blind or pair of curtains with an eyelet or wave heading which take up less space when pulled back.If space is really limited, say where a window is near a corner, a blind or single curtain are a good bet.Is there limited space between the top of the window and the ceiling? If so, a track or pole that is fixed to the ceiling rather than the wall is the way to go.
5. are blinds cheaper than curtains?
Curtains are generally more expensive than blinds due to the amount of fabric required, and the design options available can be worth the extra money. You can personalise your curtains with the heading, pooling and lining choices. Your choice of curtains or blinds depends on the size of your room and window, as well as any design elements you want in your home.
LOOKING FOR MORE INSPIRATION?
Enter your email address to receive our newsletter PLUS be the first to discover new collections & offers