Refreshing Lemon Margarita Recipe for Al Fresco Occasions
Try this thirst quenching, refreshing and satisfying Lemon Margarita recipe from Joe Mitchell of @curated_conscious if you're looking for a show-stopping cocktail to serve at your next BBQ, brunch or garden party! 🍋 We love anything citrus-y for the Summer months, so whether you're entertaining at home, hosting a party or enjoying the company of your family, try this simple and easy recipe.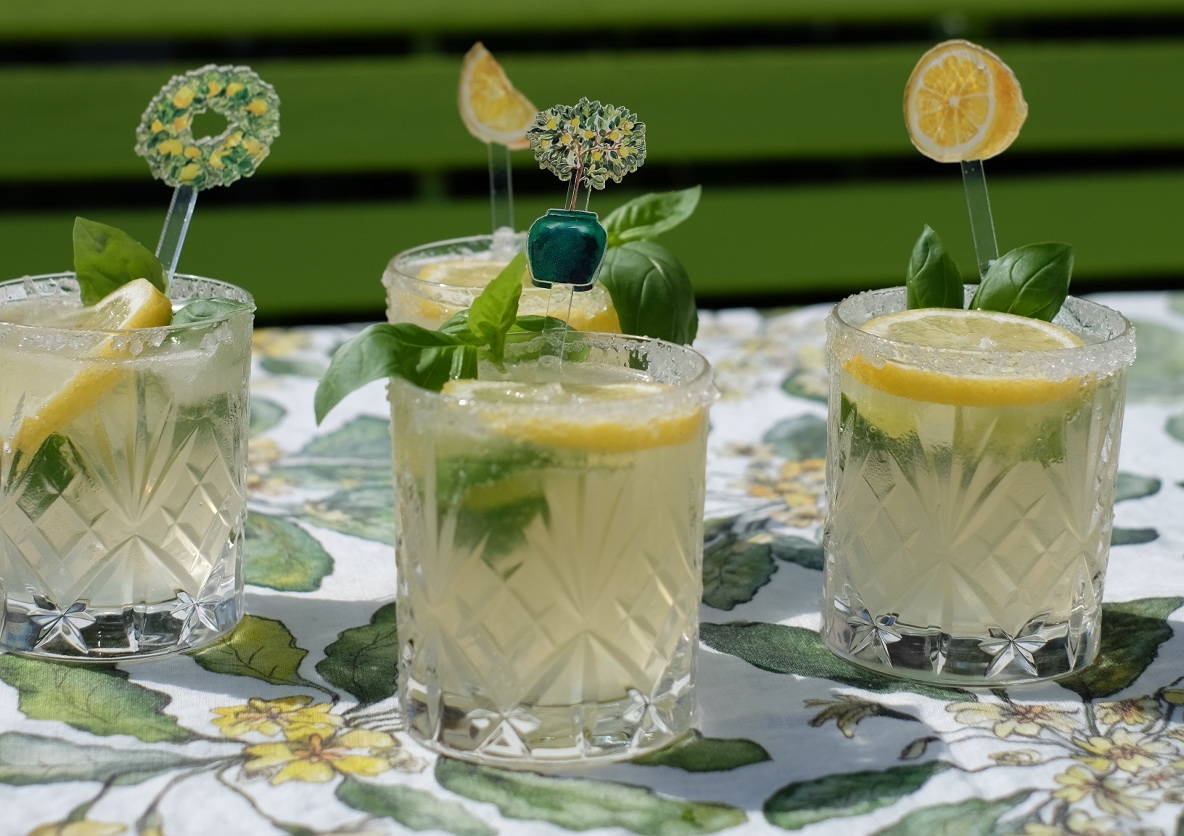 Want a little spin on the classic cocktail? While we ADORE a Classic Margarita, sometimes we like to mix it up a bit. Enter: the lemon margarita! This drink captures everything that's great about a margarita, but swaps the lime for a lemon-y citrus vibe. It's refreshing and a unique take on the standard! Using lemon also makes this margarita pair well with foods outside the traditional margarita fare. Keep reading for how to make it and the ingredients you'll need!
Classic margaritas feature tequila, orange liqueur, lime juice, and often a little agave or simple syrup to sweeten the mixture. This lemon margarita recipe is basically the same idea, but with lemon instead! It actually doesn't even need any sweetener: it's perfectly crisp and tart. Here's what you'll need for 1 serving of this lemon margarita:
1/2 sugar, 1/2 salt for the rim

1 Juiced lemon

1 Single shot of tequila

Schweppes Soda water

1 Lime wedge

1 Slice of lemon

Sprinkle of sugar

Ice cubes

Basil for garnish
Keep reading to learn the four simple steps on how to make this simple but delicious cocktail!
Because this lemon margarita recipe only requires a few ingredients, the directions to make it are quite fast and easy to make this tangy cocktail!

Here's how to make this lemon margarita:
Rim the glass with your sugar and salt blend.

The salt enhances the sweet and sour flavours in the drink! We suggest placing the mixture onto a side place.

Shake in a cocktail shaker.

Mix the lemon juice and tequila in a cocktail shaker until it is cold then pour in the Schweppes soda water.

Strain into a glass and add ice.

Strain the margarita into a glass and add ice.

Garnish!

Don't forget to add your extra lemon and lime slices, sprinkle of sugar and basil to garnish. If you're feeling extra fancy, why not style your cocktail with our Lover Of Lemons Stir Sticks? They are acrylic and therefore reusable for any occasion.
That's it! A simple lemon margarita in 5 minutes. Show us how you've made yours and be sure to tag us on social media!
LOOKING FOR MORE INSPIRATION?
Enter your email address to receive our newsletter PLUS be the first to discover new collections & offers