According to Pinterest's Predicts 2022 report, Pearlcore is an upcoming trend to keep your eyes on. The world is your oyster is as prevalent as ever as "people of all ages will embrace iridescent accents in their homes, in their jewellery boxes and even as nail art. Pearl-themed parties will be on the rise as well, as people opt for pearl-themed party gowns and wedding décor."
Considered a symbol of perfection, long life and fertility, pearls have long been considered one of the most valuable gemstones. Discovered deep in the ocean and buried within oyster shells, they are the hidden treasures of the sea. It begs the question... are pearls having a comeback? In 2021, online searches for pearl dresses tripled and searches for pearl-themed parties and pearl rings doubled.
In fact, some of the world's most acclaimed fashion designers are already ahead of the trend, such as Simone Rocha, the Irish designer known for her whimsically dreamy collections, whose recent SS22 showcased a love of pearl accessories and iridescent fabrics.
(n) the gen Z term for the return of all things pearl in 2022. The 21st century version of the timeless classic trend can be found not only in jewellery but also in fashion, beauty, home decor, and more.
Pearlcore currently refers to a fashion trend however we're going to share some tips on how you can weave this style into your home whether you're looking to incorporate the aesthetic in major or minor way.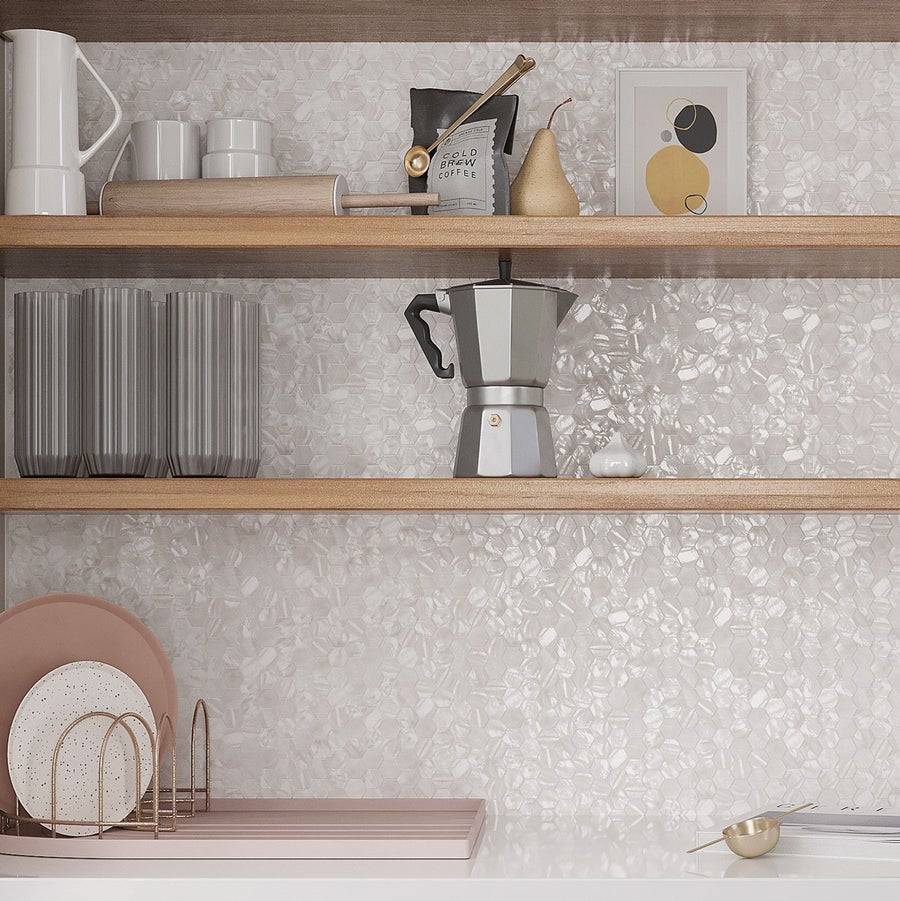 Image Credit // Tile Club
Retiling can be costly, especially if you aren't already in the process of renovating. In which case, wallpaper is a significantly more budget friendly option and will still create a statement. To accomplish the same glamorous, light-reflecting result as pearl tile, you'll want to search for "pearlescent" or "mother-of-pearl" wallpapers.
If new tiles or wallpaper is too permanent for your preferences, you may wish to consider cultivating your pearlcore aesthetic with home decor pieces featuring mother of pearl inlay, such as our Mother of Pearl Moroccan Floral Tray. A similar alternative is furniture with bone inlay, which is also often iridescent and has the same effect as pearl. These gorgeous pieces most often come in bohemian patterns that add immense visual interest to any space and can be found in mirrors, trays, coasters, knobs / handles for your furniture and so much more! A great way to achieve the effect in a smaller manner.

Or, you could opt for natural beauty. Oyster shell trinket dishes capture the essence of pearlcore like nothing else. As if the lustrous, silky-white mother-of-pearl inlay isn't fabulous enough, each little dish is rimmed in glamorous gold. Because these are made from real oyster shells, they come in a variety of sizes and no two are the same, so you'll be sure to have a truly one-of-a-kind piece in your home. Use the larger versions as a catch-all on your foyer table, and keep smaller ones on your vanity or sink to hold rings and other everyday jewellery.
One of the most creative ways we've seen pearl used in the home recently through statement kitchen backsplashes. If you are currently undergoing a kitchen renovation, or thinking of starting a project, consider swapping out conventional subway tiles for this iridescent option. Not only does it allow you to maintain a neutral colour palette, you equally are able to incorporate a trendy touch of whimsy. Bonus... the glittering surface will contribute and scatter light across the room, brightening up the entire space and making your kitchen feel larger. Win-win!