Founded in 2013 by textile designer Juliet Travers, Juliet Travers Wallpapers & Fabrics embodies a love for drawing, a family history in farming and a strong connection to wildlife in both the UK and Zimbabwe, Africa.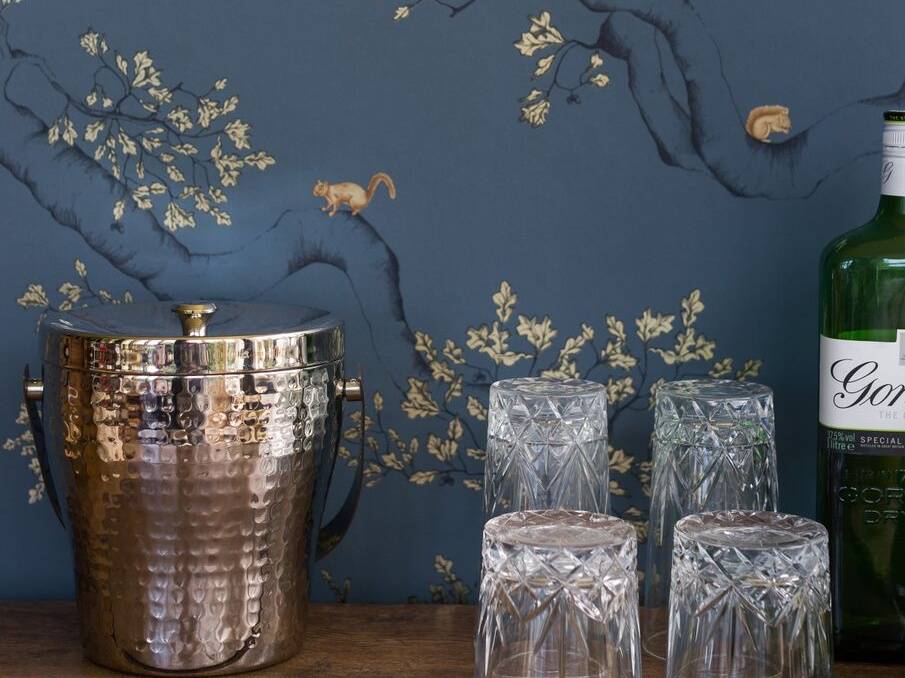 Every wallpaper and fabric stems from a hand drawn illustration that is created in Juliet's garden studio in Hampshire. The intricate motifs are then printed in traditional English factories using the iconic gravure painting method. Wallpapers are coloured using hand-mixed dyes and printed on sustainable papers with weighty linen-cotton cloths digitally printed to match.
Once an idea has been formed, Juliet works to transform her illustrations into a wallpaper design. Drawing is one part of the process, but she then needs to ensure the illustration works in a repeat for a wallpaper. Considering both positive and negative spaces, as well as visualising how it will sit on a wall in a home, restaurant or hotel lobby.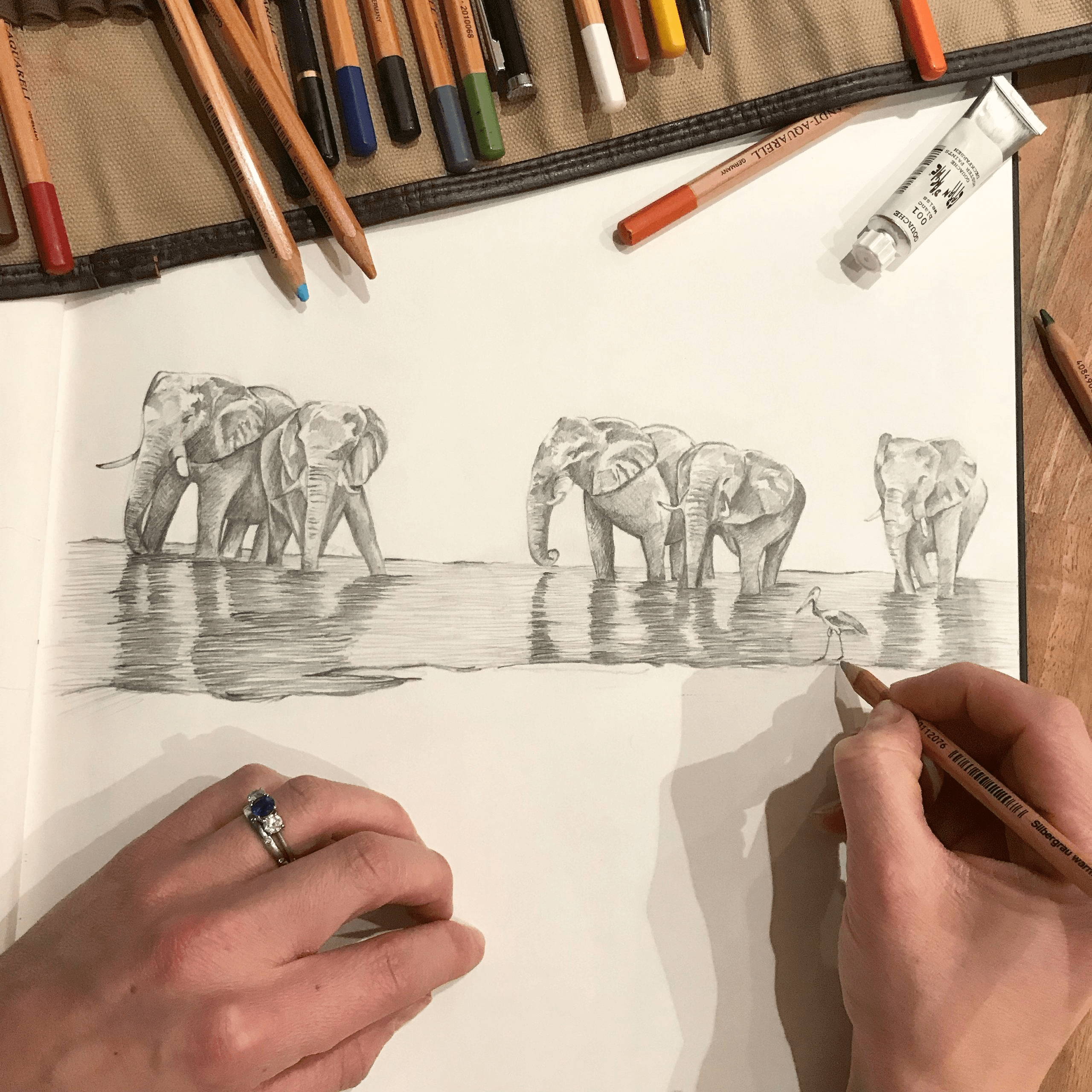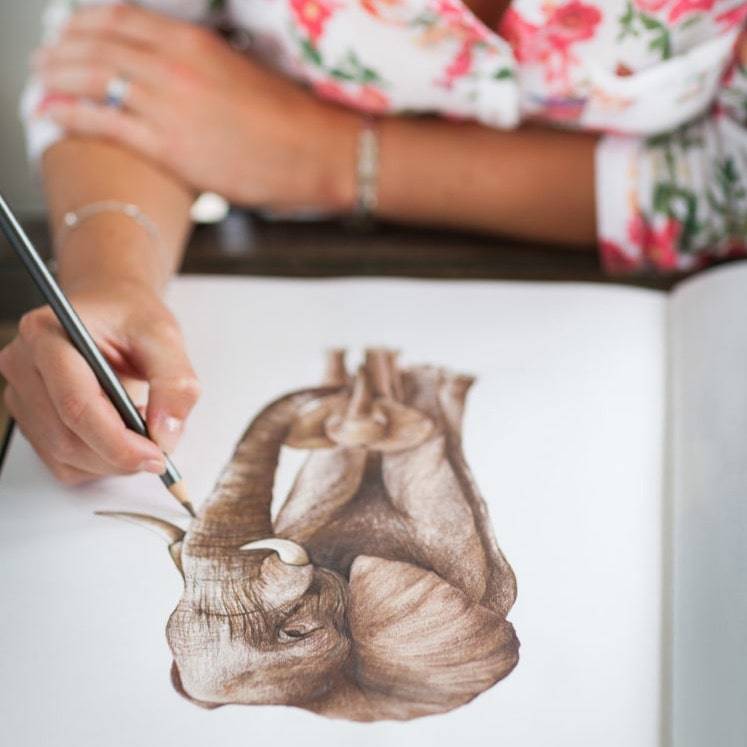 "When I begin, I always work in black and white so I am not influenced by colour. I sketch using fine liner biros, watercolour pencils & paintbrushes to soften the tone. I draw each element separately and then put the pieces together like a puzzle. With Waterhole, I needed to create depth to capture the perspective of the mountain behind the animals so I used a slightly different drawing styles for each element; more detail for the mother and calf in the foreground against a sketchy technique for the trees and mountain behind."
Bringing Juliet's designs to life - using the gravure technique -is a lengthy process because every correct layer needs to be in its exact place in order to create the precise colourway for each design. (This fundamental stage requires so much accuracy and precision!). To achieve the different tones in Juliet's wallpapers, the cylinders are etched electronically to create different sized microscopic holes; the bigger the hole, the more ink it can hold which in turn, produces a darker colour.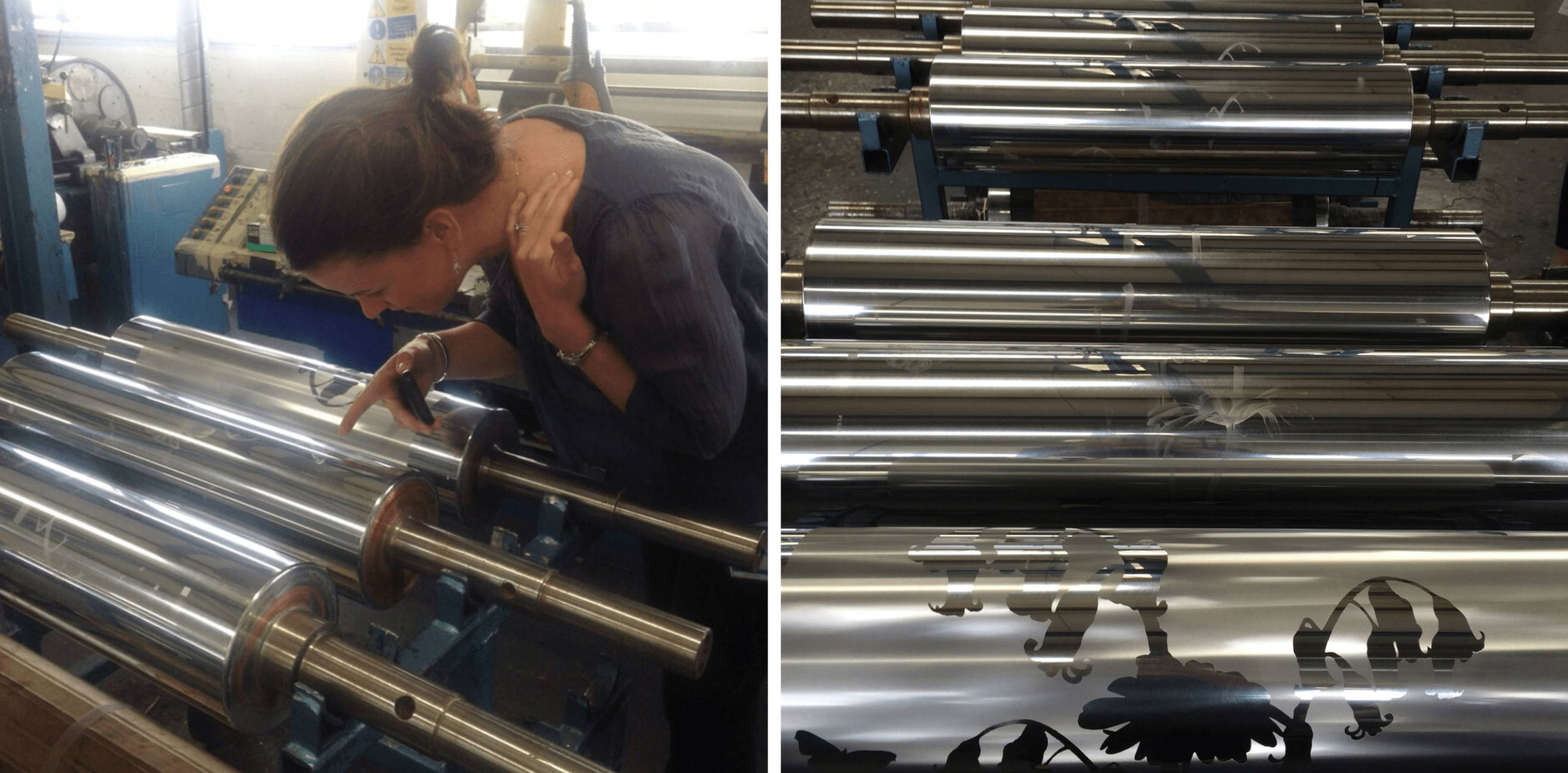 Colour is crucial with wallpapers and requires much thought before deciding how many colourways to offer for each design. Juliet offers between 2-3 colours for each design to be versatile enough to appear to different ages, styles, tastes and types of room.
For example, Waterhole, Camouflage and Tribe are very neutral to ensure the artwork's detail wouldn't be overpowered by colour. In contrast, Nakuru and Nutcracker are more playful patterns! Here, Juliet was more daring with colour
and metallic pigments to achieve a stunning contrast with the darker tones.
This process takes 3-4 days where colour specialists hand-mix various pigments for each cylinder to find the perfect result. Once Juliet has singed off on the finalised palette, the "colour recipes" are logged and each pigment is then created in bulk-sized quantities.The printing process is fast! Roughly 1,500 metres of wallpaper can be printed in just 30 minutes.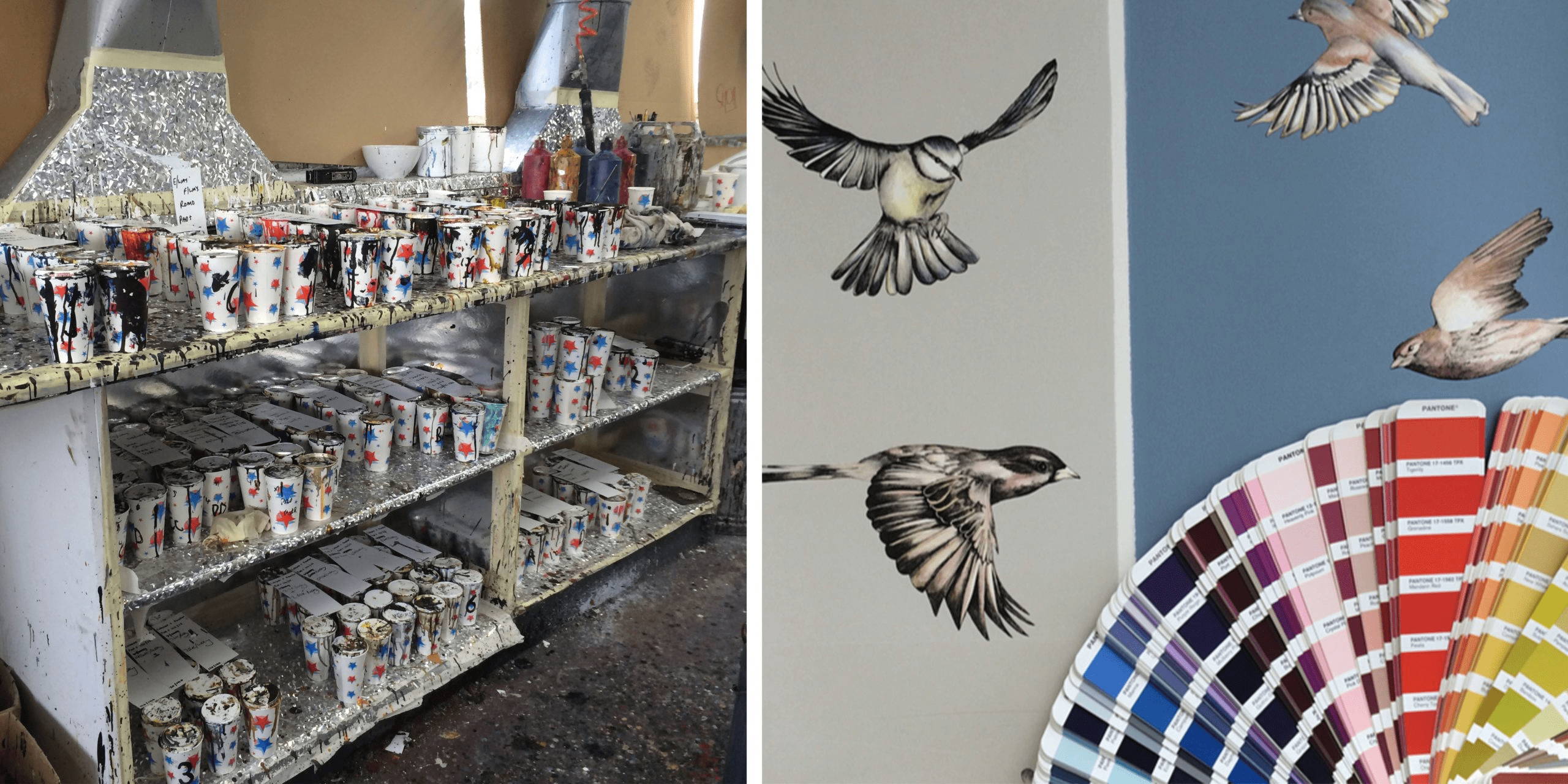 Here, we can see behind the scenes photos of the colour choosing and printing process for Early Bird (above), Nakuru (flamingos, bottom left) and Dazzle (zebras, bottom right). We love how so much careful consideration goes into the design and manufacture of each design!