how to source the perfect home accessories
When we think about interior design, we may consider wallpaper and paint colours, or choosing a comfortable sofa and functional furniture. There are many ways to decorate your home to make it feel like a warm and inviting place for entertaining and relaxing, however accessories have the ability to truly make your house a home. This is why finding the perfect accessories for your home is key. With the right home accessories, you can transform a standard living space into a personal, homey and enjoyable setting.
the importance of finding ideal home accessories
Whether you are completely redecorating a room in your house or you simply want to spruce up an existing space, there are a lot of accessories to choose from. Though this provides you with many options - and ensures you'll find accessories that tick every box in terms of style and design - it could leave you spoiled for choice! This is why knowing how to find the perfect accessories is key.
Accessories can be used as decorative ornaments or they can be practical and functional, some items even manage to fall into both categories! The most important thing to keep in mind when selecting home accessories is that they need to contribute in creating a space that truly feels like your own. Otherwise, you could end up with a home that feels somewhat detached, like a show home. Your home should feel personal and reflect your own style! This is why accessories play a big part in this.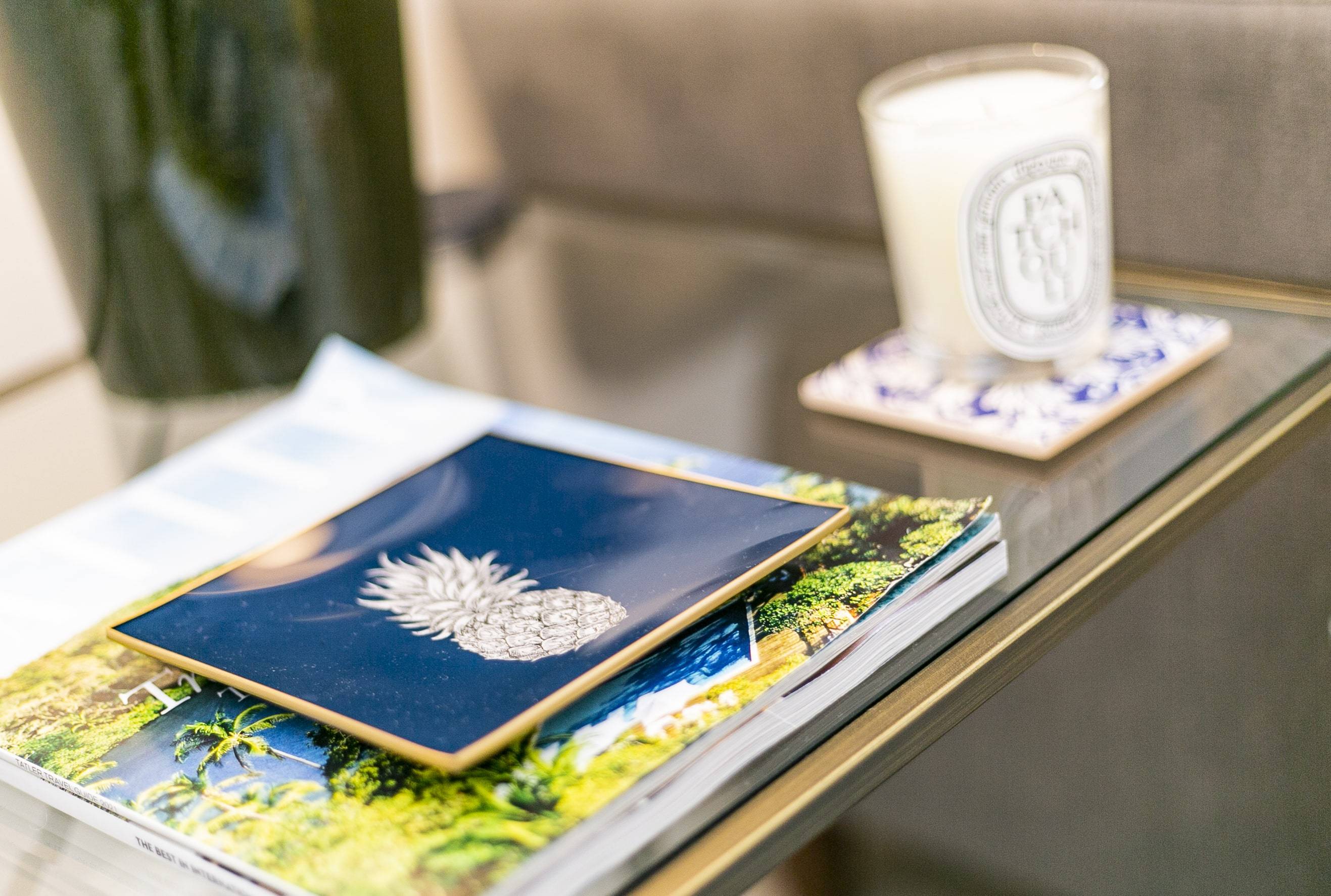 what to consider when buying home accessories
There are a few key elements to consider when buying home accessories, some of which we've listed below for you!
Incorporate Texture - When you are sourcing home accessories, look for items that offer variation in texture. Different textures can be found in the form of cushions, rugs, blankets even storage baskets. Texture adds extra dimension and depth to a room, which helps make a space feel cosy and comfortable. A room with a lot of texture is both welcoming and inviting. Instead of a home feeling 'flat' and minimal, or even clinical, texture helps create a space that is packed with style and personality. However, avoid adding too many different textures in a small space, as the room could quickly become overwhelming and disordered.

Don't Forget About Lighting - It's a common misconception that lighting is solely a functional part of a home, when it actually impacts the look and feel of a room hugely. Selecting the perfect lighting for your home will create the desired vibe and feel. For example, does the your lamp complement other accessories? Does it create a warm and welcoming ambience within a cosy living room, or is it purely functional? Rather than simply choosing a lamp that you like the look of, consider the type of light it will cast into a room, as well as how it will integrate with other elements. When selecting lighting, it's crucial to find the right balance between function and style.

Explore Various Brands - There is no shortage of interior design brands out there and though you are sure to have your favourites, don't immediately rule out accessories from other places. At Decoralist, we stock home accessories from +100 brands from around the world. This is how we manage to curate a varied collection of products, meaning there is something for every person and every home. Different home accessory brands have different styles and designs, and some are likely to be better suited to your vision than others. So if one brand doesn't provide exactly what you are looking for, don't hesitate to look elsewhere and expand your horizons.
Have a Colour Scheme in Mind - As there are so many home accessories to choose from, you might find yourself overwhelmed with colours and patterns, and jumping all over the place. There is nothing wrong with mixing and matching colours, or even combining various patterns if you're feeling bold, but sticking to a rough colour scheme will help tie everything together for a cohesive look. Choosing colours that are complementary will create a space that flows and feels curated. If you use too may colours, you run the risk of the room feeling disorganised and thrown together. A colour scheme can be as bright and bold, or as neutral and understated as you like. Pinterest is a great source to starting saving "pins" of what colour schemes you're naturally drawn to.

Set Your Budget In Advance - With so many accessories to choose from, setting a budget in advance can help you narrow down your options. There is nothing worse than rushing into the process of decorating your home, only to later realise that you have massively overspent. With a budget in mind, shopping for home accessories will become more streamlined as you'll know immediately what is feasible to consider and what is not. It's also a good idea to have a list of accessories you need and a list of those which would be nice to have. Notice the difference? It's important to prioritise your efforts.
Many people make the mistake of assuming that home accessories will break the bank, but this doesn't need to be the case. With so many accessories to choose from, you can find an entire host of items that will work for both your budget and taste. To find out more about finding the perfect accessories for your home, browse our growing collections. At Decoralist, you'll find everything from candles and mirrors, to storage baskets and bedding. Alternatively, get in touch to find out more.