Home Tour in Lisbon With Filipa de Abreu
We stumbled across this gorgeous, vibrant dining room (photographed below) on Instagram and simply had to write about Filipa de Abreu's outstanding Lisbon apartment. Whimsical, fun and flirtatious, we adore all the textiles that have been tactically used to create the focal points in every direction. Oozing in global luxury, swoon over this gorgeous apartment with us!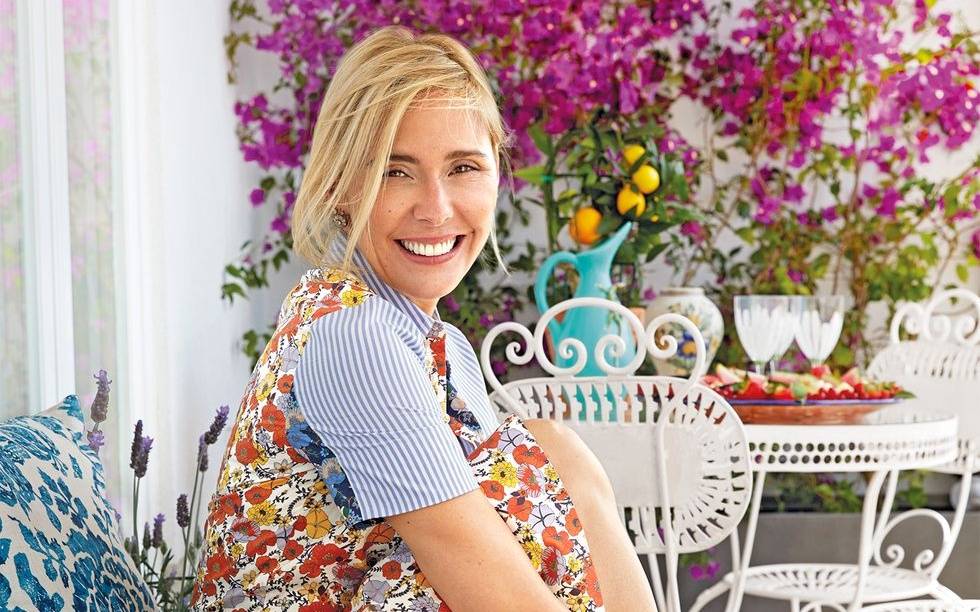 Complete with 12-foot-high ceilings, crown mouldings and boiserie-detailed walls, Filipa de Abreu's Lisbon apartment not only has an uninterrupted view of the Atlantic Ocean, but is packed so tastefully with beautiful items homeowner Filipa de Abreu has discovered on her travels.

A tasteful mix between traditional interior architecture and a variety of decor and furniture styles makes this home truly one-of-a-kind. At the head of her dining table are beautifully upholstered Ikat Louis chairs contrasted against dainty bamboo side chairs. The scalloped Jennifer Manners rug picks up on the repeated use of green and pink but also offers a neutral foundation for more adventurous decisions with bold decor.
"The house is for entertaining. My way of thanking friends is to show them the best possible evening."


- Filipa de Abreu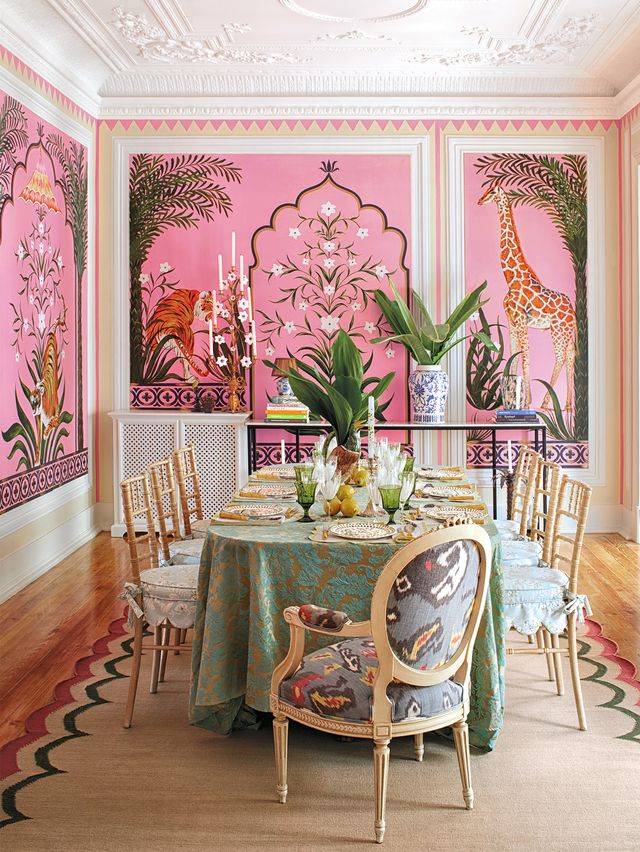 Photography by Pascal Chevallier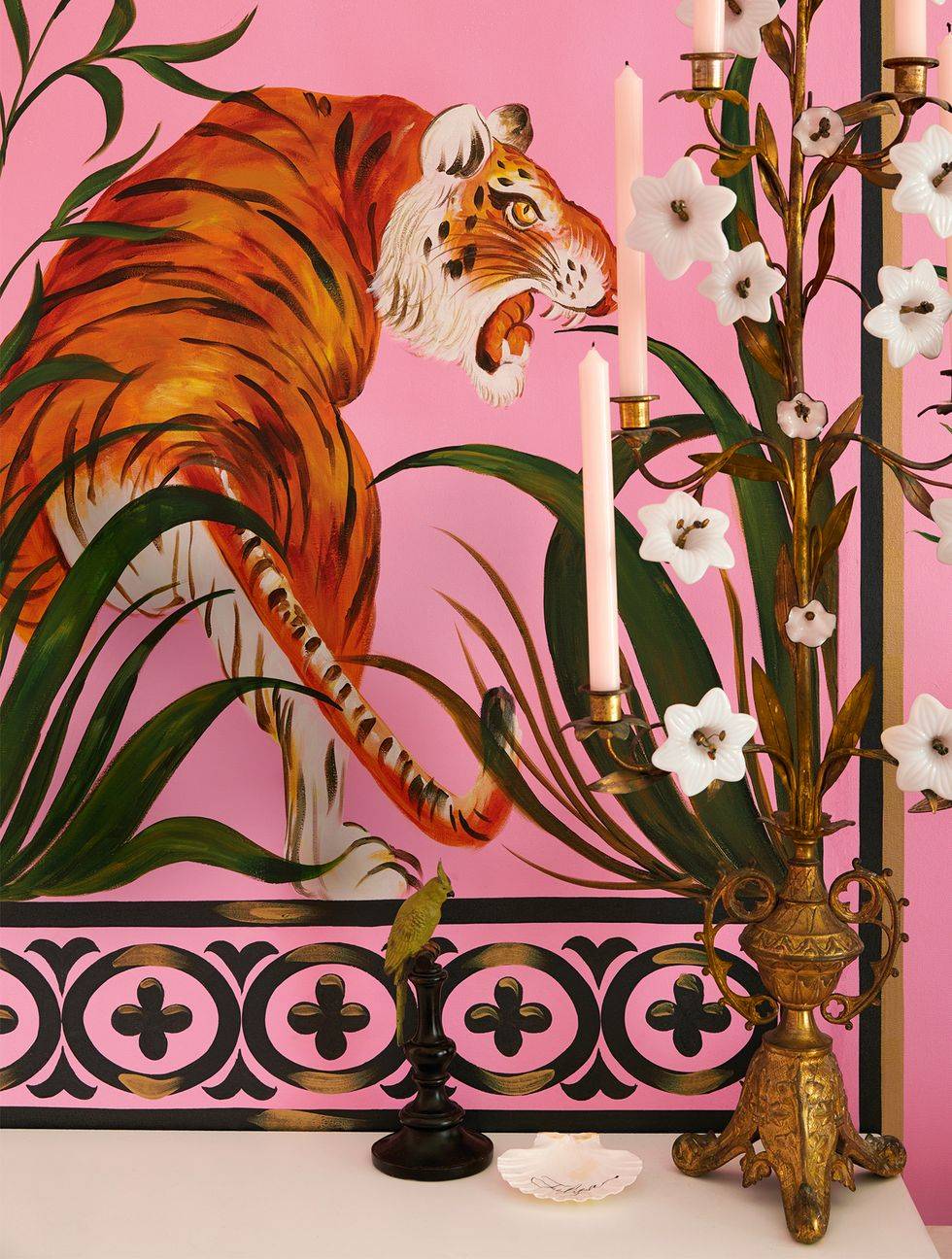 Photography by Pascal Chevallier
Watching over each meal and sit-down occasion are two tigers and a giraffe, hand-painted within a striking pink mural. A birthday gift from de Abreu's good friend Marie-Anne Oudejans, a Jaipur-based interior decorator, who instructed the artists to paint freehand, taking four days to complete.
de Abreu can comfortably seat 24 guests around the dining table, which is usually set with green lettuce-ware pieces designed by Dodie Thayer for Tory Burch Home. Linen napkins at each place setting are embroidered with her guests' initials.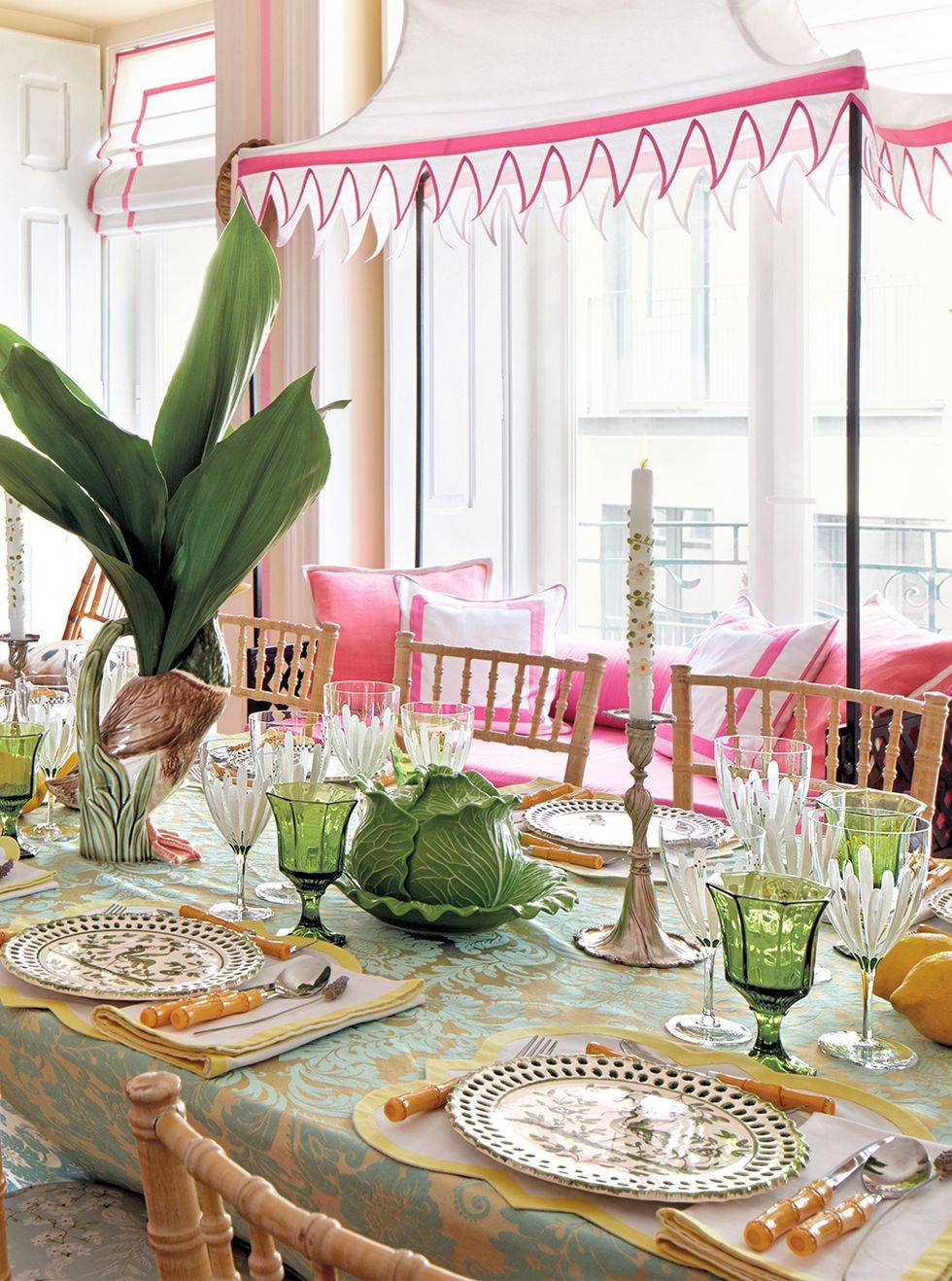 We just adore de Abreu's master bedroom. The custom-headboard is made from Indian fabrics, and the bedding is from Portugal. Two exquisite tiger chairs have been transformed into nightstands, contrasting against the traditional bed design. Influences from the Netherlands surround the bed as blue and white Delftware plates are tastefully positioned around the canopy to frame the bed.
de Abreu's living room, known as the Blue Room, is furnished with pieces that have been brought back from such places as Jaipur and the Portuguese beach town of Comporta. The extensive use of textiles seen notably on the cushion design and indigo-coloured Ikat throw, reflects her global aesthetic. Egyptian obelisks, Eastern textiles and Oriental blue and white ginger jars personify de Abreu's exotic taste.
Can you spot the large shell complete with glass evil eyes? This is such a fun and very unique way to inject your own personality into a space.
Photography by Pascal Chevallier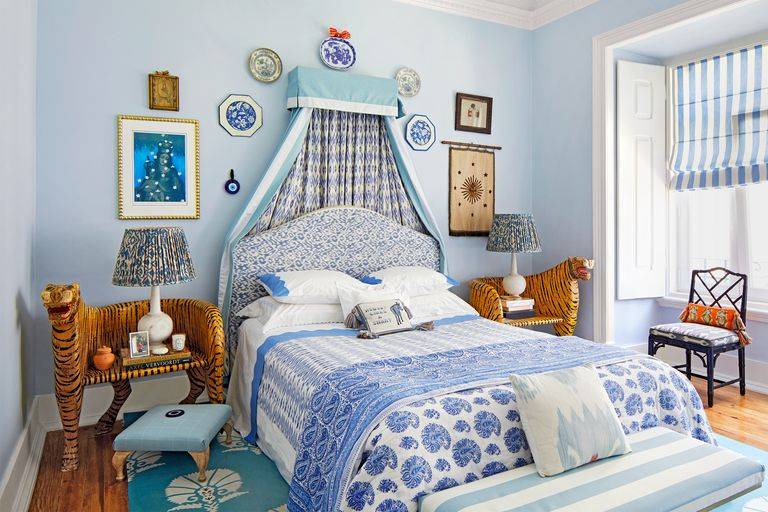 Are you an interior design addict TOO?
Nice to meet you!!! Enter your email address to receive our newsletter and be the first to discover exclusive VIP offers and insider access to new collections.