"Barbiecore": Live Like Barbie With Dreamy Homewares
This summer, behind-the-scenes shots of Margot Robbie and Ryan Gosling filming the upcoming Barbie movie sparked an aesthetic trend in a matter of minutes. While the Greta Gerwig movie doesn't even premiere until July 2023, the general population are eager to embrace the "Barbiecore" trend not just in fashion, but in interior design too.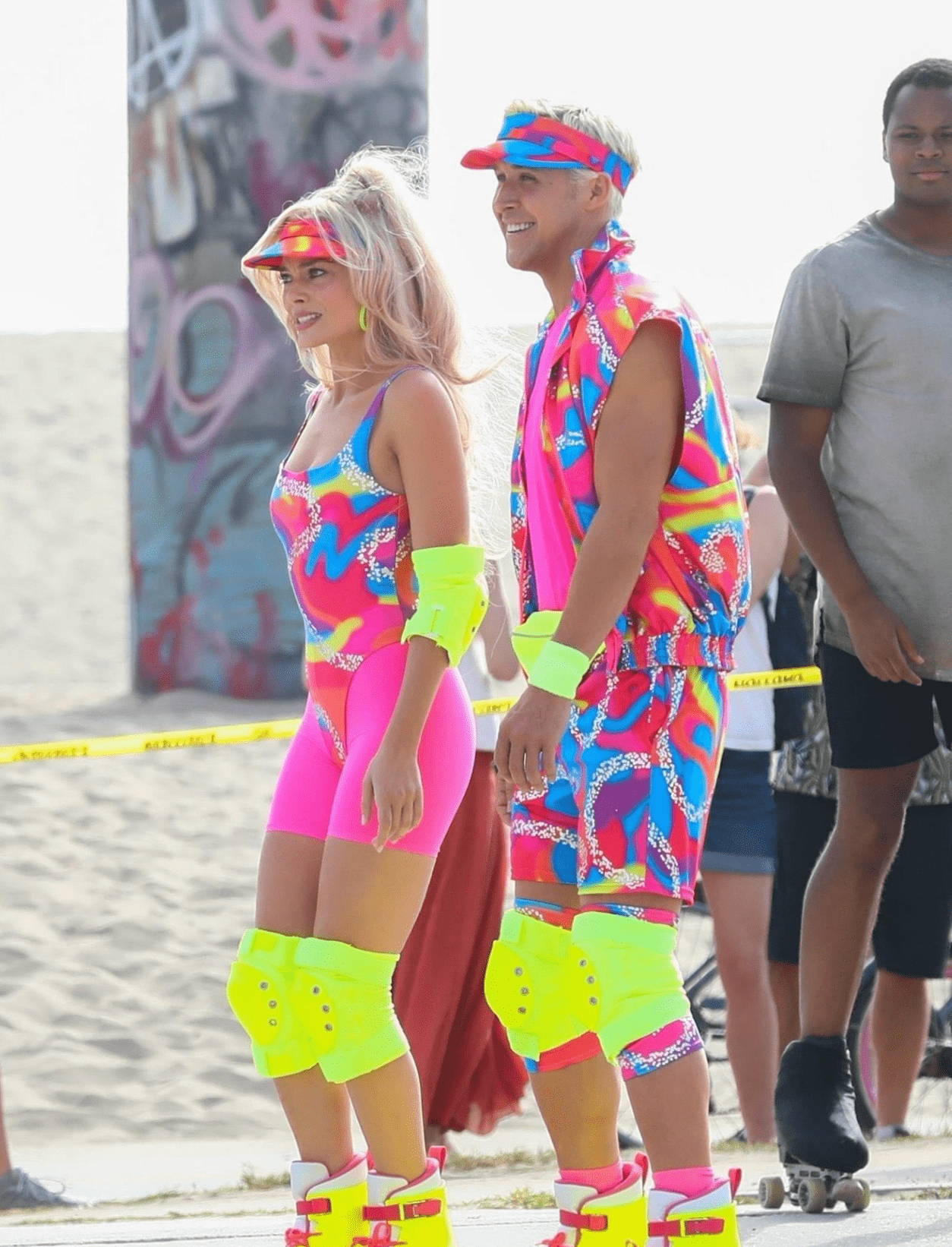 Transporting us back to a nostalgic 90s aesthetic, everyone's talking about Barbiecore interiors, the latest in microtrends mostly perpetuated by TikTok and social media (go figure!). While stepping back into a Barbie world is as easy as picking up a hot pink hair scrunchie or neon-coloured bike shorts, we can't help but think about the set design itself. What is Barbie's dream home going to look like on the big screen? With the Barbie Dream House's 60th anniversary, we're curious how we can style our homes like the Barbie Dream House to achieve the 90s look, but do so in a way that has longevity rather than opting into a fleeting "trend"?
Well, we know what Barbiecore would look like for our wardrobe: ultra-pink, playful, pops of neon and large-scale pattern. Thanks to iconic eras and representations of the Barbie doll, the style mainly calls on 70s, 80s and 90s fashion.

From an interior design context however, when we look at the oh-so-timeless 1983 Town House for inspiration, surprisingly we don't just see pinks -- Barbie's home is cohesive using a variety of different colours such as whites, greens, pale blues and pinks to draw her spaces together. The walls are neutral, allowing for the furniture and accessories to shine and we also can't help but notice the use of timeless materials, such as rattan and wicker.
Havenly designer Heather Goerzen says, "Barbiecore embraces all that is fun, whimsical and unabashedly bold. At home, it's all about infusing spaces with optimism and powerful feminity, from imaginative silhouettes and dynamic patterns to a clever use of colour -- including Barbie's signature pink."
To create the look at home, it's ultimately about playing with bold colour, incorporating few neutrals and taking some risks. No piece is particularly bland in the Dream House and clearly... pink is a colour splashed throughout. The goal for anyone wanting to redecorate their home is to factor in longevity as buying new items only to discard them when the trend passes is not sustainable long-term. Head of design at Laura Ashley, Helen Ashmore, tells us that this isn't a passing trend and that 'there are elements of the pink-dominating aesthetic that has longevity and you can introduce the Barbiecore look in many different ways". Here are our top three tips to get started with the trend:
Our best tips? Barbirecore does require an element of fearlessness so if you are attracted by the aesthetic, then go for it! Since Barbie has spanned over five decades, there are many different eras within the style that are open to interpretation. Therefore, you can pick and choose design elements from each era that you are most drawn to, whether feminine florals or neon pink accents. Interior designer Jennifer Hunter used bold pastels, including a soft pink and bright turquoise in a project she completed in Palm Beach, Florida, exuding a clear Barbirecore aesthetic that you could draw inspiration from.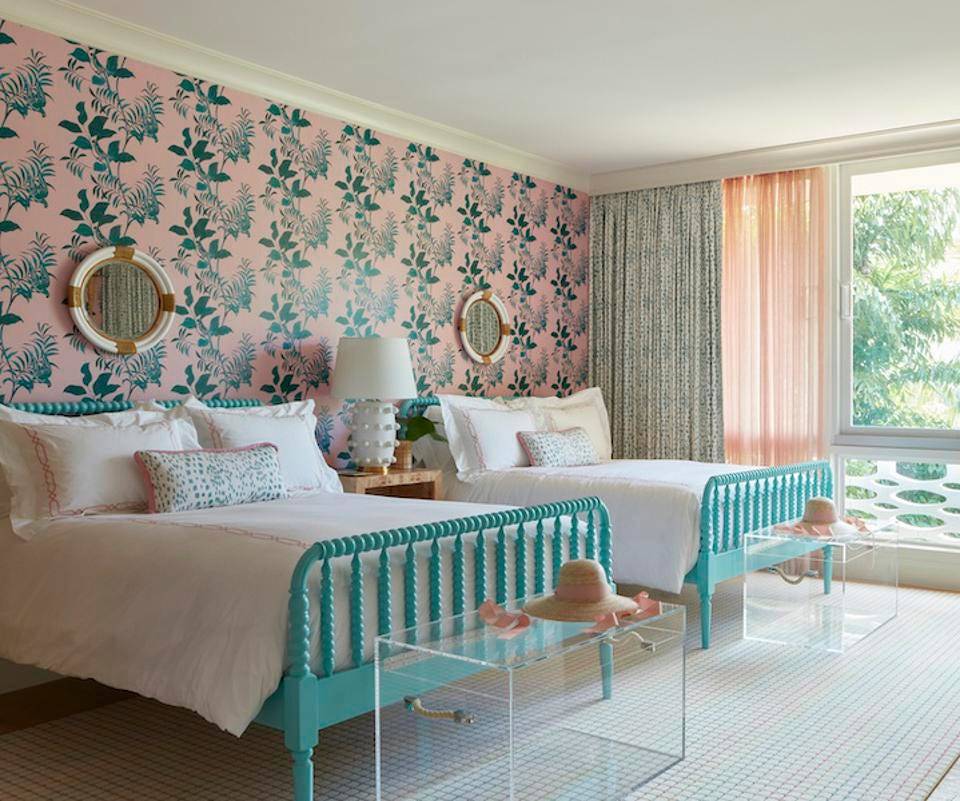 Interior by Jennifer Hunter / BRANTLEY PHOTOGRAPHY
"[These colors] feel both cheerful and playful, incorporating scalloped sofas and scalloped edges on the coffee tables and mirrors, fun surfboard art, collections of shells, and even a collection of straw hats. This celebrates the beach lifestyle that Barbie is so famous for without being too over the top."
We recommend playing with the small details such as vases, cushions, wall art and visually-interesting decorative pieces. While interior designers know how to create the chic Barbiecore interior aesthetic, the average person wanting to refresh their own property perhaps doesn't want to push the trend too far. Incorporating more subtle Barbiecore details through pink, gold and brightly coloured decorative pieces can bring pizzazz to aggressively neutral spaces that have been so popular in recent years.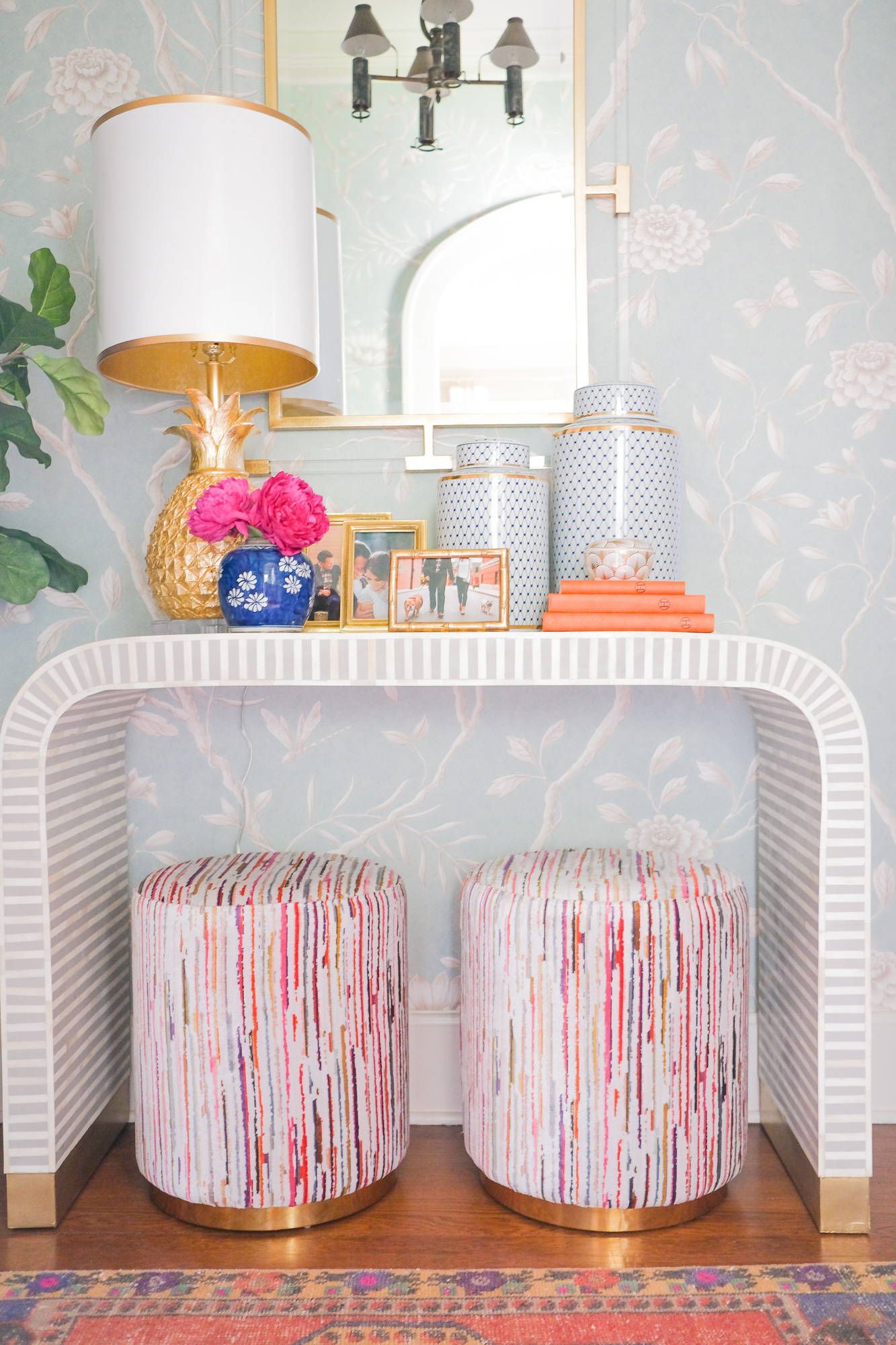 "If you want to try a smaller dose of the trend, try incorporating three to four different complimentary colors within your decorative objects. Think white furniture, hot pink pillows, a bright yellow candle, and a neon blue coffee table book like the ones from Assouline mixed with dark wood, acrylic and brass tables." -- Elizabeth Sutton
We've been noticing a lot of designers suggesting blending pink with red in an interior looking to incorporate the Barbiecore aesthetic. Design experts at Havenly are nailing the moody-luxe look, incorporating raspberry reds, statement brass details and soft pinks to blend.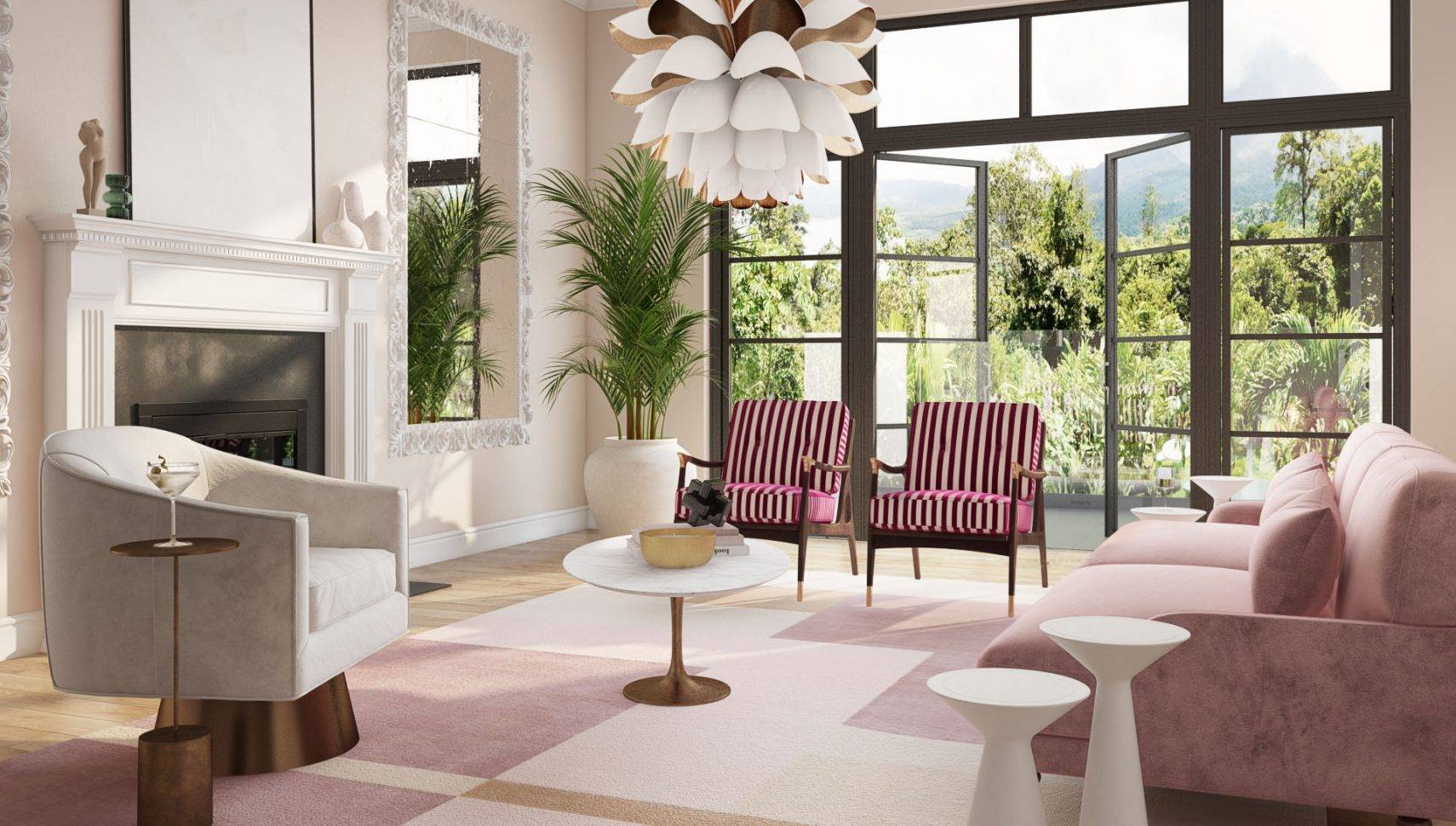 Interior Design by Toussaint Derby at Havenly
Whatever your Barbiecore preferences are, there is enough flexibility with the trend that you can really create a space that works for you, whether that's going all in with the bright pinks and bold colours, or if you opt for a more subtle decorating style.