7 Interior Design Tips for your Dream Bathroom
Looking for new bathroom design ideas? If your bathroom doesn't make a design statement, perhaps it's time to consider a refresh. Go beyond a fresh lick of paint and step out of your comfort zone by introducing expressive art pieces or decorative accents that you love. We've put together some interior design tips to help you get started!

1. Go Bold!


The idea that small spaces must be light or neutral is a little outdated. Don't be afraid to go bold with your paint choice and remember to use a colour that you enjoy most! You could paint an accent wall or alternatively, when you paint everything in one colour (ceilings, walls and woodwork), it creates unity and will make your space feel larger.
"The key to great bathroom design is balancing functional lighting with atmospheric lighting, incorporating clever storage AND making it a space that's unique to you!"
Interior Design // Sarah Vaile Design
2. Wallpaper
Wallpaper works really well whatever the size of your bathroom. Bright designs, fun patterns or a large print suits a large, light bathroom brilliantly whereas a more moody, atmospheric and statement wallpaper may suit a smaller space better. We love to use wallpaper in bathrooms as these rooms tend to be forgotten about and can be quite boring in their overall design. Yet, they are totally underestimated spaces! Remember to protect the wallpaper surface from water by applying a clear varnish. You can source this directly from any good paint supplier.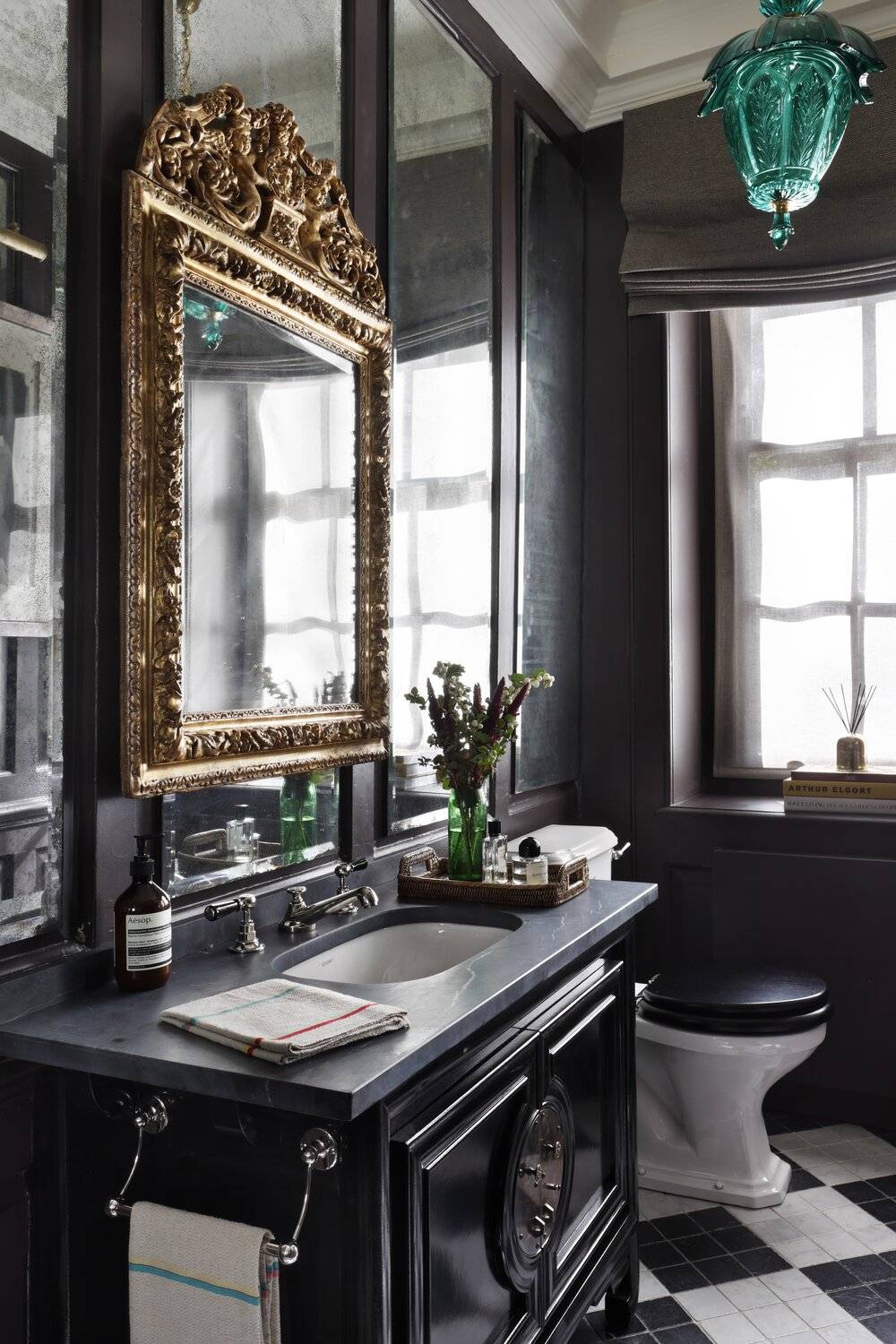 Interior Design // Studio Duggan
3. Bath or Shower?
Do you prefer a bath or shower? Free-standing baths on claw-and-ball feet? Or a pedestal base? Often, these become the natural focal point of any bathroom and can have a powerful impact on your decorating style. However, they are not always practical if you don't have adequate space. Showers can be equally as lovely with large panes of glass for free-standing showers with a large brass rain showerhead soaking you from above. Frameless glass doors are perfect for showcasing beautiful tilework.
4. Mirrors
If you have a very small bathroom, it is usually best to mirror the whole bathroom to enlarge the space. You can use mirror panels for the whole wall to reflect the light. We suggest having at least one, if not two, wall lights above or on both sides of the mirror.
5. Lighting
Good lighting is essential in any bathroom! If your bathroom is slightly dark, it's even more important to install proper lighting, as there's nothing worse than a gloomy space. (Not to mention, you want to ensure natural lighting when applying makeup!). Wall lamps either side of your main mirror, at eye level, are excellent for this purpose, as they will illuminate your face from both sides and above. In addition to that, mood lighting with dimmers is a fantastic way to create a more relaxing atmosphere, especially when you are relaxing in the bath. Do ensure that your lighting sources are placed correctly to avoid casting any unwanted shadows - the key is to balance functional lighting and atmospheric lighting!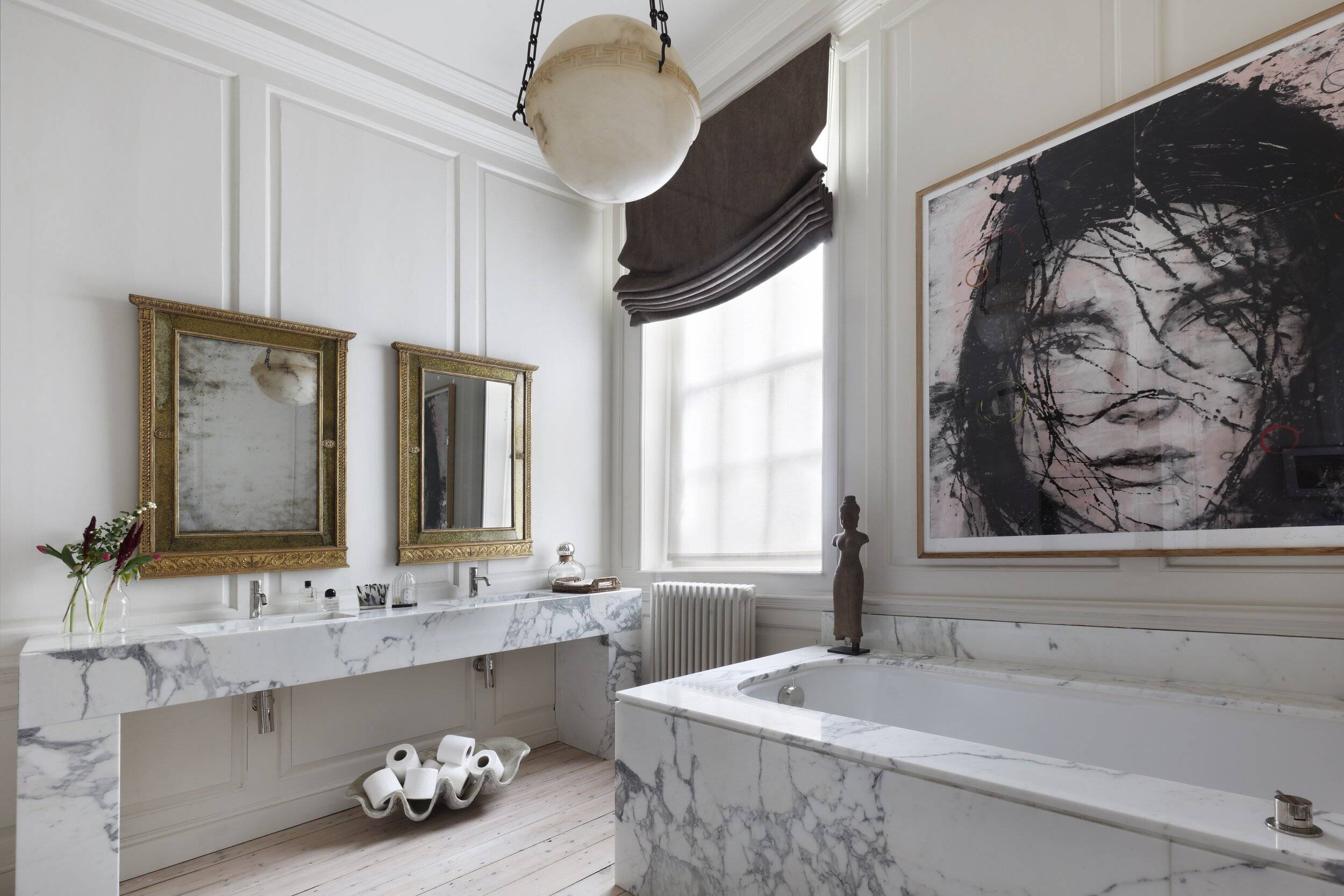 Interior Design // Studio Duggan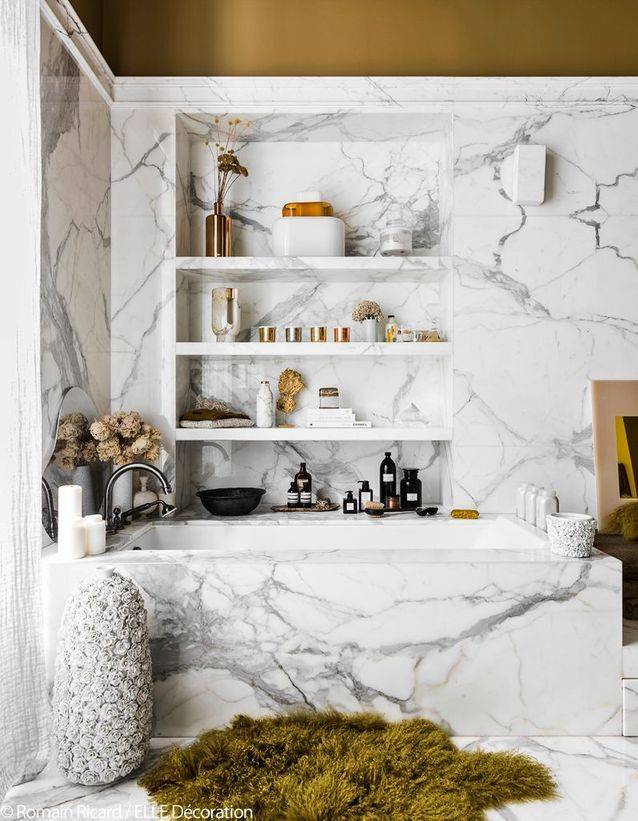 Image Credit // Elle Decor France
7. Accessorise
Surprisingly, the bathroom can be a fun place to accessorise. You can include a small rug ensure it feels cosy when you step out of the shower or bath. No one wants a slippery and cold bathroom floor! Equally, it's a really fun place to include a chic wastepaper basket, rattan trays to store guest towels or home fragrance to add a calming aroma to your bathing time.
6. Clever Storage
Be clever with the storage space in your bathroom. Whether you wall mount shelves or install cupboards underneath the sink, you'll want to maximise the aesthetic aspect of your bathroom, rather than the functional aspect. As such, storage should not only be clever, but stylish too. By using under-the-sink cupboards with long drawers, it means you can store so much more and prevent clutter that often gathers around the sink.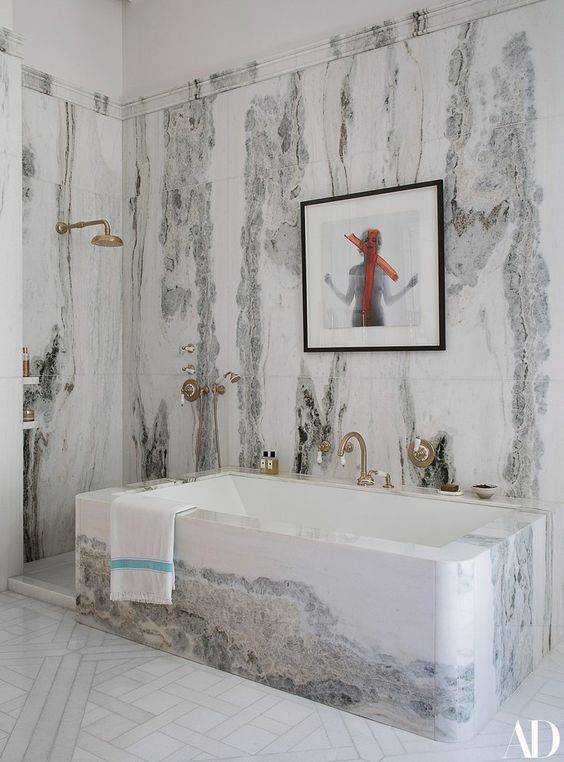 Image Credit // Architectural Digest