Living Room Ideas for Decorating Around a Navy Sofa
Looking for living room inspiration for decorating around a navy blue sofa? These ideas show just how versatile a blue sofa can be whether you are starting from scratch or restyling existing pieces. From neutral schemes to colourful room ideas, these 5 real spaces show the range a navy blue sofa has that you can explore.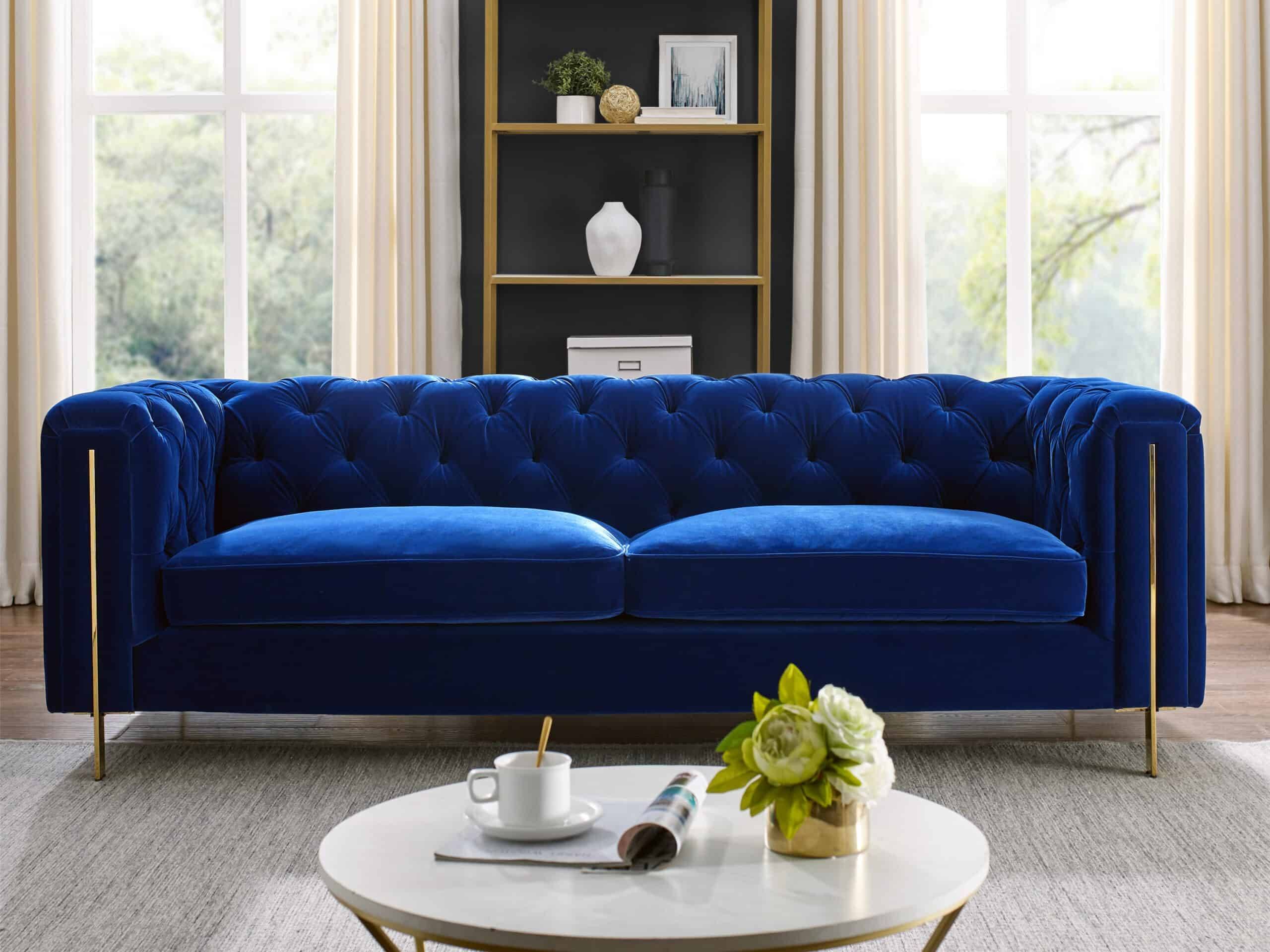 Navy blue is one of those neutral colours, like black, grey and cream that acts as a solid foundational colour for any space. This means you have endless choices when it comes to decorating around a navy blue sofa. You'll want to consider not only the colour scheme but also other living room furniture ideas to accompany. To provide you with some inspiration, we're sharing 5 popular colour schemes for living rooms with a navy sofa.
To create a dramatic aesthetic in your living room, you may want to consider a tone-on-tone blue living room. Go bold with navy blue layered on other shades, perhaps a light blue or even a green-blue teal, to ensure your sofa still stands out. We love how Australian interior designer Greg Natale has created almost an ombre effect in this contemporary, luxe space. The tone-on-tone doesn't feel overwhelming because he has been clever low hanging lighting, thus adding warmth, but also allowing the ombre to fade into the ceiling, creating a lightness about the space.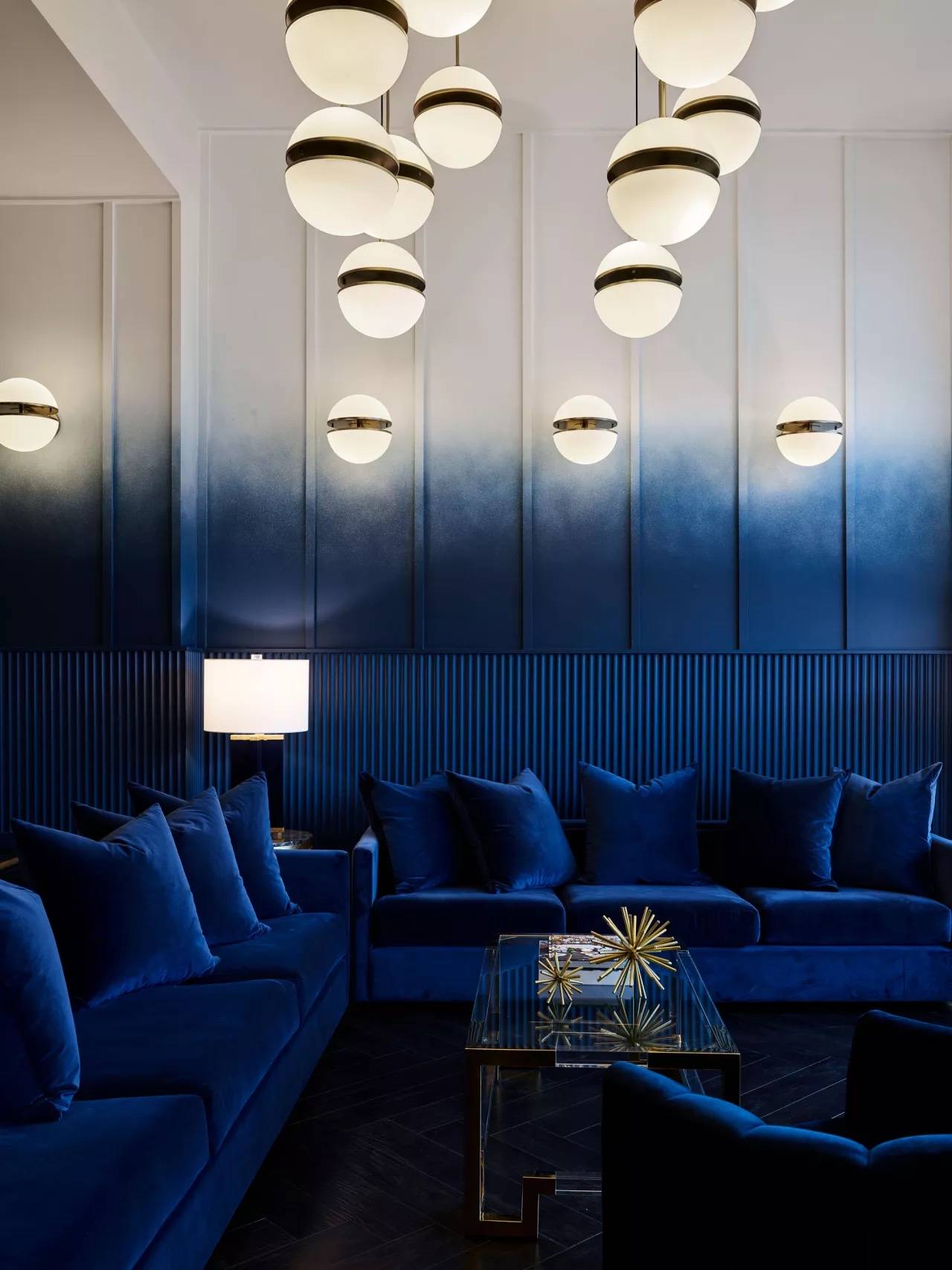 INTERIOR DESIGN BY GREG NATALE
For a more parred down aesthetic that is still tone-on-tone, you could opt for a shade that is just slightly darker than that of your navy blue sofa such as in the image below. With the right lighting, accessories and paint colour, you could create a really dramatic, yet cosy space for your navy sofa.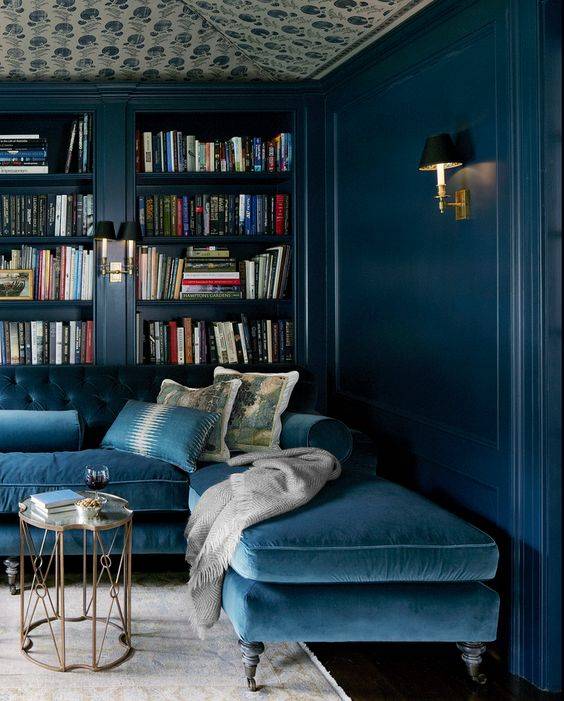 PHOTO CREDIT | HOUSE BEAUTIFUL
A navy blue sofa will lift a grey living room wonderfully, especially if you pair the right shades of blue and grey. Grey can often be quite a cold, modern shade, which is why it's important to pair it with the complementary colours and materials to ensure your space doesn't feel sterile and unwelcoming. If you already have grey elements in your room or are using grey as a foundational colour, a navy sofa could be a great option to ground your space.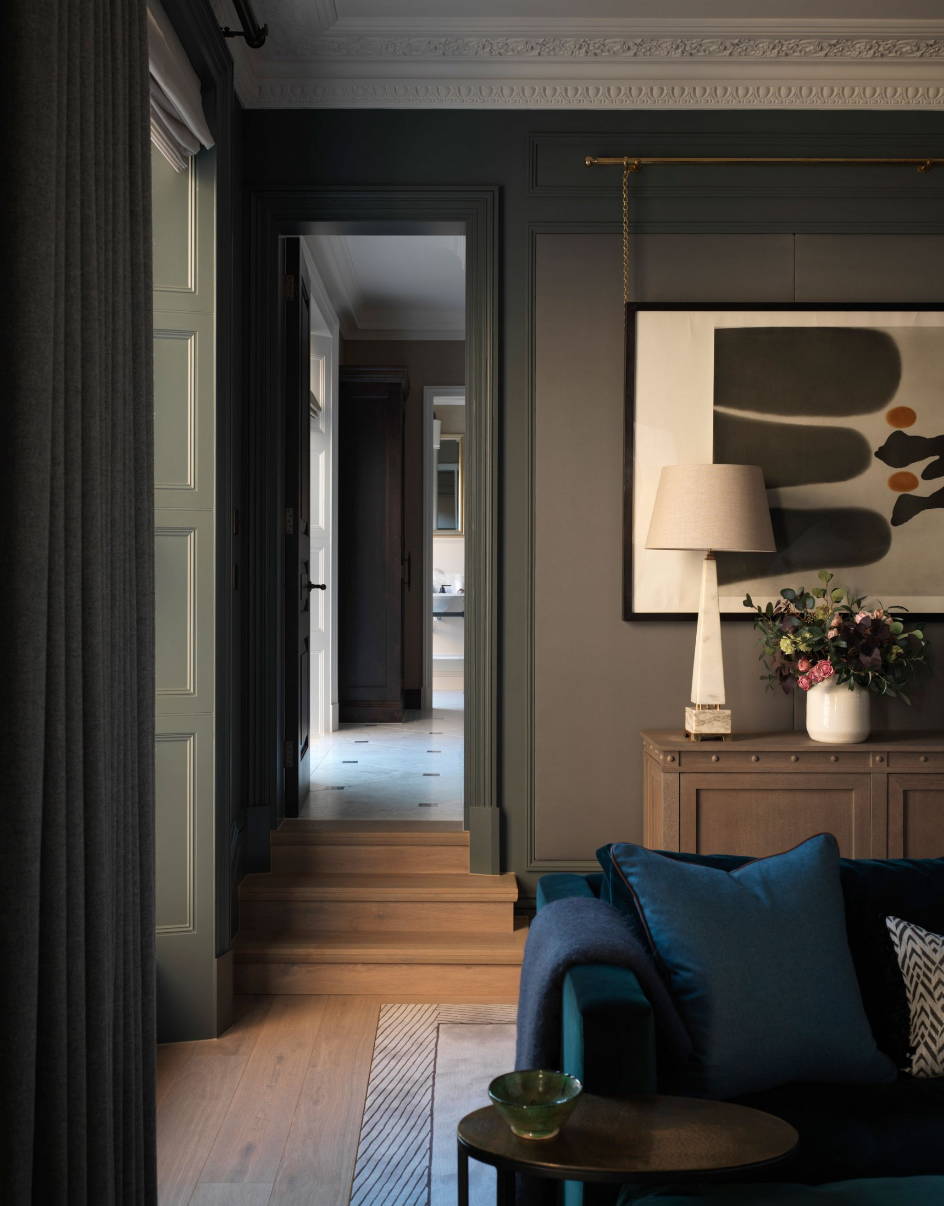 INTERIOR DESIGN BY ALBION NORD
For a balanced look, you'll want to allow the shades of grey to even out the tone of your navy blue sofa, as showcased in the design of this London home by Albion Nord (above and below). While the walls and trim are painted in Farrow & Ball's much-loved Downpipe, the clever fabric paneling behind the artwork has a slightly warmer tone which makes the room feel instantly warm and welcoming.

For a navy blue with colder tones, try a warmer grey for balance, such as Farrow & Ball's Cornforth White or Elephant's Breath, while a warmer version of navy will balance best with a grey with more blue tones.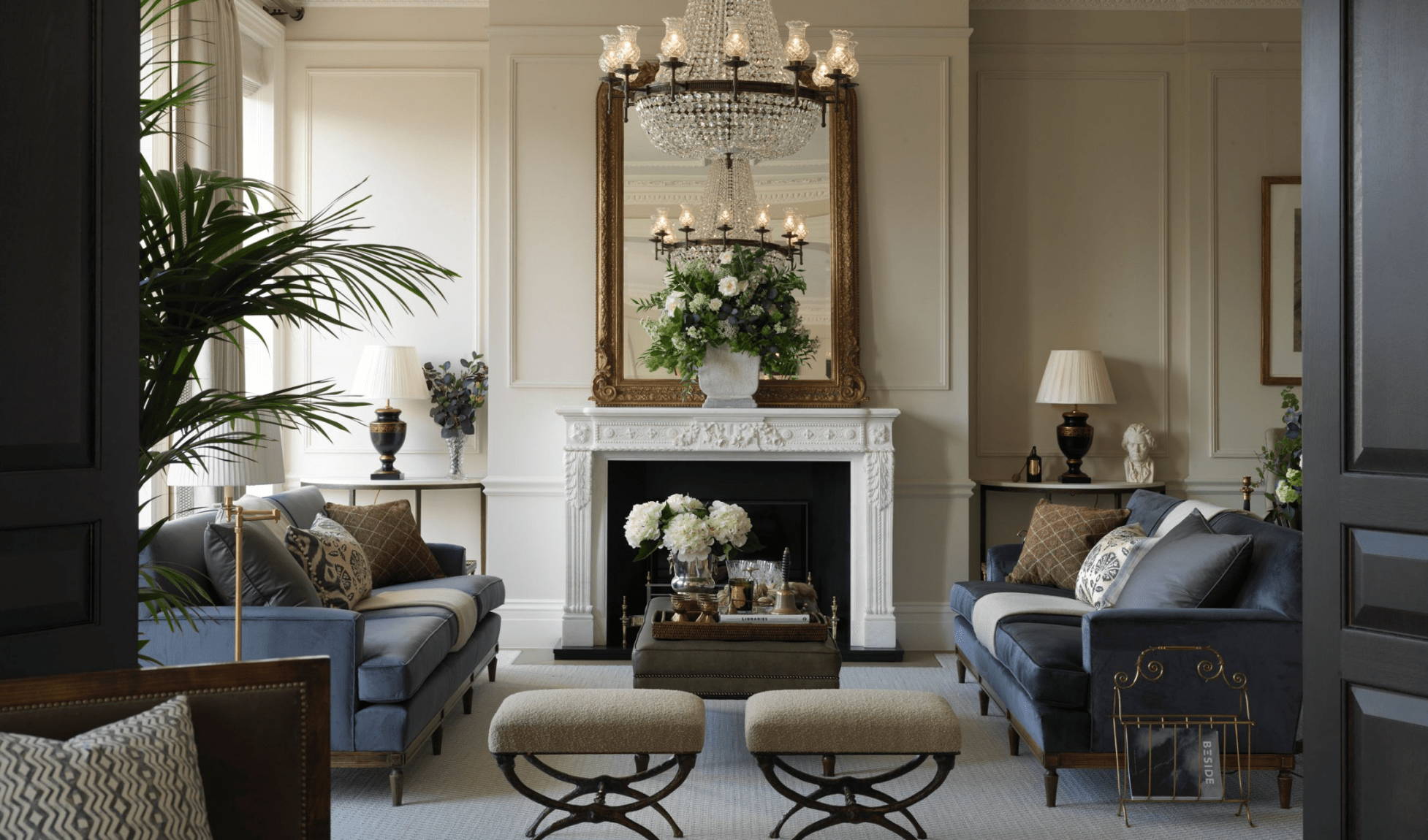 INTERIOR DESIGN BY ALBION NORD
Navy blue lends itself well to a glamorous, luxury living room scheme when mixed with the right materials. Brass, marble, luxurious textiles and opulent prints can all elevate a navy blue sofa into new realms, as showcased by this decadent room design by Greg Natale, photographed below.
'I wanted to create something really moody and glamorous for this New York apartment living space,' explains interior designer Greg Natale. 'By choosing dark, tonal colours such as navy, it creates a space that is really polished and refined,' he adds.
'I love to use wallpaper on ceilings, so I specified that then mirrored it with a larger exaggerated pattern for the rug choice.' - Greg Natale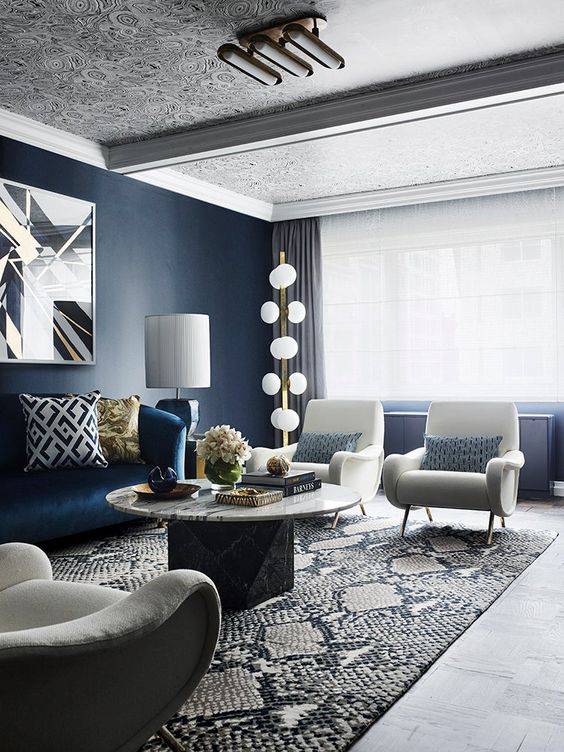 INTERIOR DESIGN BY GREG NATALE
Deciding to decorate your living room in blue and white is a popular choice. Not only are blue and white living rooms a classic colour combination, the options are endless for accessorising, whatever style you're going for, and it doesn't need to be a coastal or nautical style either! A white backdrop offers a crisp, fresh and versatile foundation for any room in your home.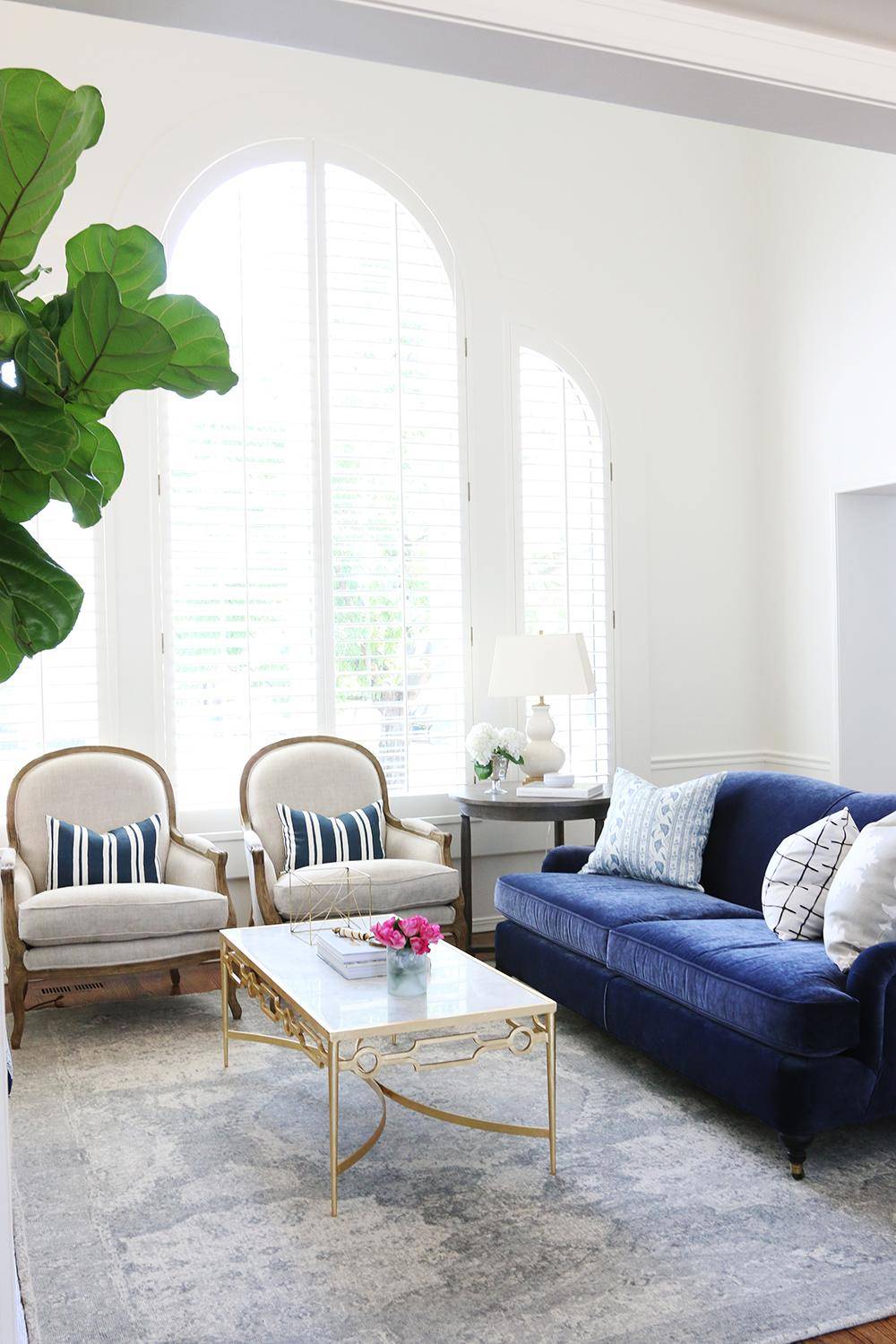 INTERIOR DESIGN BY STUDIO MCGEE
5. BLue on neutral (but with colour)
Even if you paint your walls a neutral paint colour for a versatile foundation, you can spruce up your space and inject personality with as many pops of colour as you desire. Whatever you decide, it's worth considering the rest of the scheme carefully, rather than simply lumping a colourful sofa in a more muted space. Even in a more neutral living room scheme, don't forget that the world outside your window forms part of your room's colour palette too.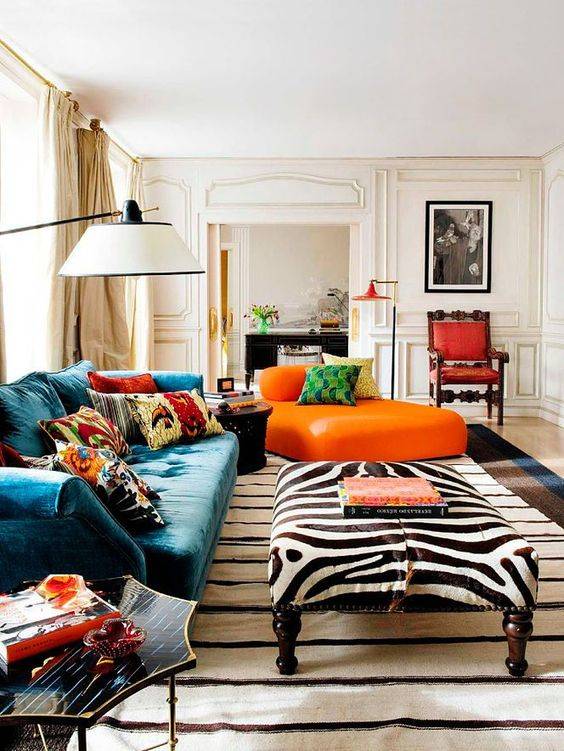 If you're in doubt about how to style your navy sofa in a living room, please don't hesitate to reach out to us and a member of the team will gladly help. Sometimes just an extra pair of eyes can help you make the decision that's best for your space.
LOOKING FOR MORE INSPIRATION?
Enter your email address to receive our newsletter PLUS be the first to discover new collections & offers