5 Grandmillennial Decorating Ideas That Blend Old With New
When you think of classic floral embroidery and pretty flow blue china, you probably picture traditional, vintage interiors. But what happens when you combine these vintage, homey elements with refined, contemporary pieces? You end up with what we like to call 'grandmillennial decor'.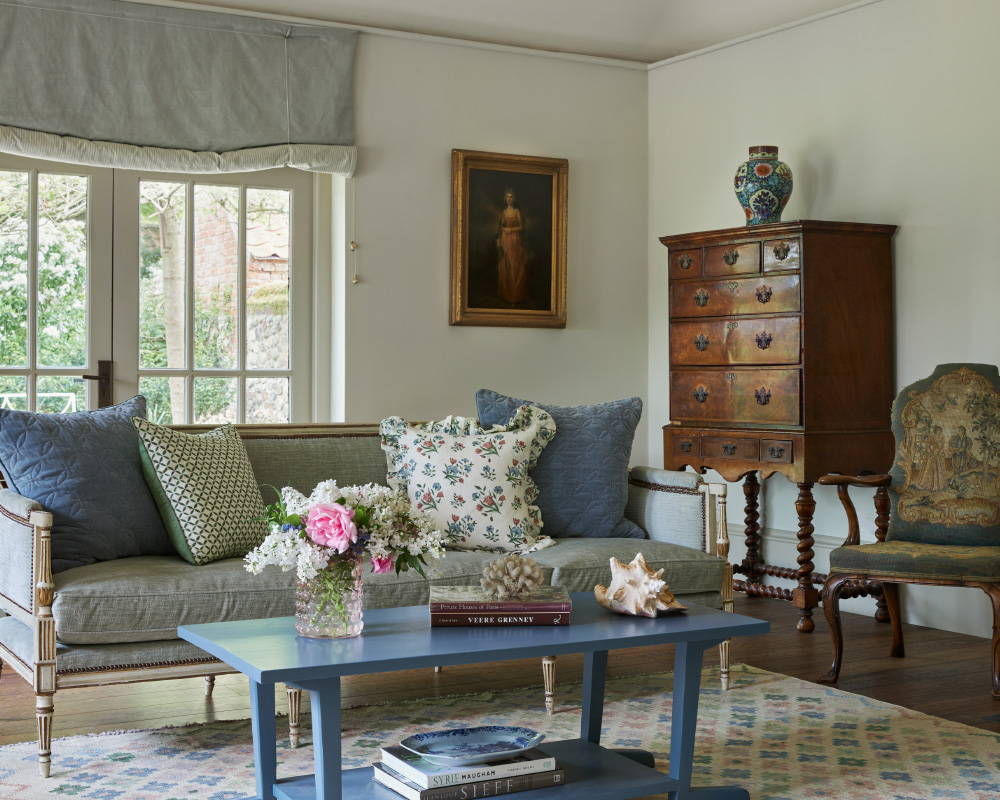 So, what does grandmillennial actually mean? As you might have guessed, the term originates from the words 'grandmother' and 'millennial'. The term was coined in 2019 by interiors editor Emma Bazilian for House Beautiful US to describe an emerging interior trend that blends different eras to create an eclectic style. As the name suggests, it's popular with millennials that have an affinity for traditional designs but enjoy mixing them with a modern flair – with some even dubbing it as 'granny chic'.
Grandmillennial decor shares a similar aesthetic to cottagecore (and to some extent vintage maximalism) but at the heart of it lies the juxtaposition between old and new to provide an expressive mixture of colour, pattern and texture, all with a modern twist. Think floral wallpaper, chintz fabric, wooden furniture, embroidery, ruffles and wicker pieces.
Using comforting, homey styles and eras of design from the past with fresh, modern ideas, the Grandmillennial style champions an eclectic mix of patterns, inviting natural materials, cozy textures, and bold use of colour. Here are 5 Grandmillennial Decorating Ideas:
1. PATTERN, PATTERN AND MORE PATTERN
From ditsy floral wallpaper to decorating with stripes and checks, incorporating pattern into your home can really bring a space to life. For the Grandmillennial style, you'll want to include "warm, gorgeously layered spaces, a mix of prints, patterns, colours as well as textiles and passementerie galore", as Roxy Owens describes.
Grandmillennial decor ideas are rooted in an eclectic mix of designs which is why you shouldn't be afraid to unite contrasting patterns and prints in your scheme. Helen Ashmore, Head of Design at Laura Ashley, talks about the importance of pattern when it comes to grandmillennial decor: 'Grandmillennial decor is all about embracing chintzy floral patterns and your grandma's favourite china tea set. Layer various patterns and bright colours on top of each other for a fresh new take on laidback maximalism.'
Think of all those classic blue and white ceramics like Wedgwood Jasperware, Delft, Chinese porcelain, and American spongeware. These classic accessories are the perfect way to decorate with blue and add a touch of history to your Grandmillennial style room.
Using rich woods like mahogany, maple, and ebony with blue creates a timeless aesthetic that feels really elegant. The warmth of the wood grounds the airy-ness of the blue and makes it feel less icy. The grandmillennial trend is all about having an appreciation for the past. Making space for traditional, lived-in pieces, try incorporating vintage wooden accents such as an antique bedside table, desk, or a wooden occasional chair.From decorating with antiques to using wooden paneling, flooring, and furniture, you can't beat the beauty and timeless nature of working with wood interior design, and this versatile natural material is definitely at home in a Grandmillennial space.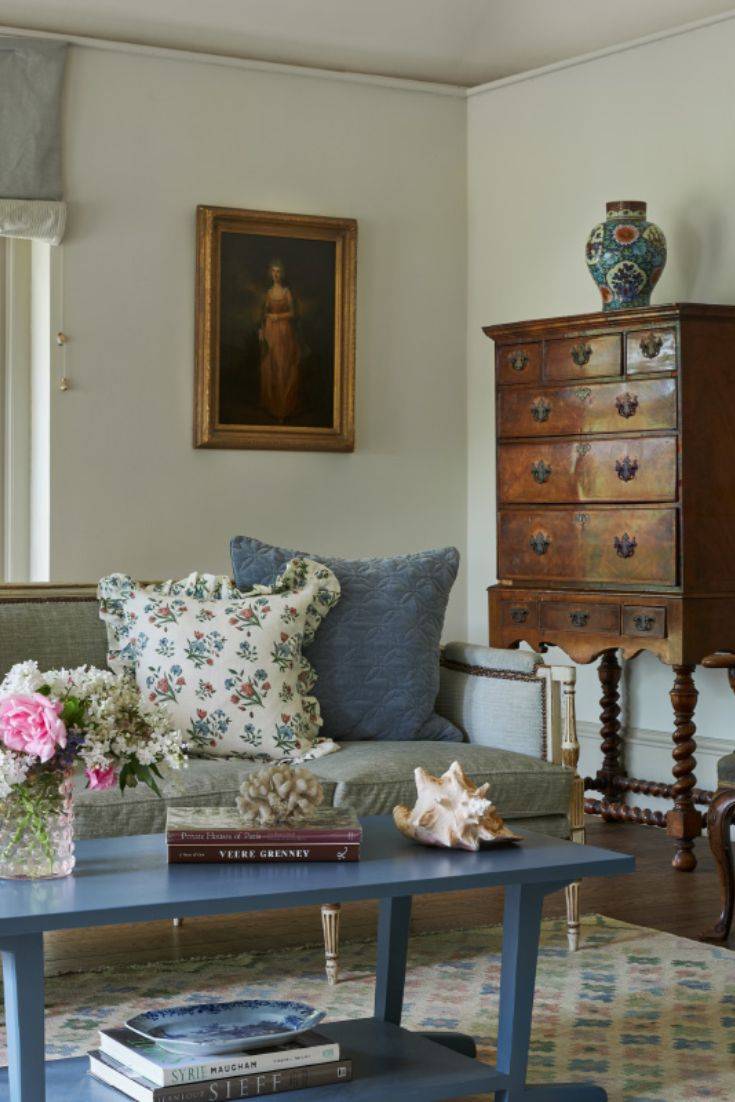 incorporate an antique piece made from a warm wood and complement it with floral, hand-blocked, embroidered and ruffled cushions.
4. STYLE WITH TRADITIONAL CRAFTS
From furniture that embraces traditional craftsmanship techniques to styling your space with handmade accessories and vintage finds, these details will help to create an atmosphere rich in nostalgia and history. As interior designer Bethany Adams says 'grandma-like handicrafts, such as quilted, crocheted, and needle-pointed elements, all have a home in the new Grandmillennial decor.'
5. DON'T FORGET WALLPAPER
A key part of grandmillennial decor is patterned wallpaper. Start your grandmillennial transformation by experimenting with different floral wallpapers. It doesn't have to go everywhere: start with a statement wall, slowly but steadily layering your items. Add to it as you live with it - think of it as a collection of your favourite things.
A Grandmillennial style embodies the beauty contrasts – you only have to look at the name to find that out! From uniting together different patterns to styling a space with antique furniture find and modern accessories, Grandmillennial decor is a chance to celebrate many eras of design; creating an eclectic, unique space bursting with both the new and the traditional.
LOOKING FOR MORE INSPIRATION?
Enter your email address to receive our newsletter PLUS be the first to discover new collections & offers